Need2Know: Deano's Sweet Potato Café to reopen; Affinity RV wins award; Thumb Butte Distillery honored
Originally Published: April 1, 2018 6 a.m.
Deano's Sweet Potato Café ready to reopen
Deano's Sweet Potato Cafe, which closed after the shooting death of owner James Dean Herbert II in January, is almost ready to open once again, thanks to the hard work of his family.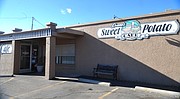 Daughter Jennifer Gonzales said the restaurant will re-open April 17.
Getting the place back open took "an incredible amount of effort, money, heart, and soul," she said.
The café, at 443 Miller Valley Road, has hired a new chef, Aaron Marks. "He knows all the same people (Herbert) knew, and he's a certified executive chef, too," she said, noting that he was in charge of hiring the new staff.
He won't be changing much about the Sweet Potato Cafe, which the family wanted to save as a tribute to Herbert.
"This is my dad's dream," Gonzales said. "Every after-school event that my dad didn't attend, every time he wasn't home until 9 o'clock at night, this was all of his work."
Affinity RV wins award
RVBusiness magazine recently recognized Affinity RV, located at 3197 Willow Creek Road in Prescott, as one of its 2017 Top 50 RV Dealers in North America.
RVBusiness asked recreational vehicle manufacturers to nominate dealers across the United States and Canada who exemplify best practices and excellence in their field. An independent panel of industry experts convened at the RV/MH Hall of Fame in Elkhart, Indiana, to select the Top 50 from nominated dealers who submitted applications.
"It was a very proud moment for all of us walking onto the stage and accepting this award in front of our peers," Affinity owner Bob Been said.
Thumb Butte Distillery honored, again
Prescott's Thumb Butte Distillery has won four medals in the American Distilling Institute's International Craft Spirit Competition for 2018. They were bronze medals for their Bloody Basin Bourbon, Barrel Aged Gin, Crown King Single Malt and their 100 proof Robert's Rye. That brings their total to 13 medals collected in four years of operation.
"These awards are a coup for Arizona and for a very small distillery in a western state not known for quality whiskeys," said Jim Bacigalupi, the company's head distiller.
Thumb Butte Distillery is the first legal distillery in Prescott since Prohibition. For more information, call 928-443-8498.
To submit items for the Courier's Need2Know, email twieds@prescottaz.com; for legal advertisements, email tbryant@prescottaz.com.
More like this story
SUBMIT FEEDBACK
Click Below to: