Originally Published: April 1, 2018 6:06 a.m.
About 160 people showed up to hear Joe Arpaio, Republican candidate for U.S. Senate, speak at the Rowle Simmons Adult Center in Prescott Friday, March 30. About 75 audience members remained to hear Arpaio talk after about a dozen protesters disrupted the presentation.
Arizona Representatives David Stringer and Noel Campbell, sponsors of the event, had appealed to the audience at the start for a show of respect. "Nothing can be solved if we first don't listen to one another," Campbell said.
About 25 minutes into Arpaio's opening remarks, student protesters stood and chanted, displaying signs that read "NAZI SCUM," and Arpaio left the room. The protesters exited peaceably after about five minutes, accompanied by uniformed Arizona Rangers and members of the Oath Keepers organization.
Student organizers felt it necessary to come together in solidarity and protest for those who lost their lives due to racist policy and imprisonment, said Claire Murtha-Paradis, a master's degree student from Prescott College.
Katie Henley also left with the protesters. She said afterward the she felt Arpaio was someone "knee-deep in widespread racism in the larger jail system, and oppressive searches.
"It felt like patriarchy and misogyny, with gender language around underwear and the color pink used as a shame-based tactic," Henley said, referring to Arpaio's comments on his issuance of pink underwear to male inmates in the Maricopa County jail system.
The Town Hall is the first of three that highlight Republican candidates running for U.S. Senate. Stringer said the event was not just for Republicans.
"This is not a Joe Arpaio thing. It's a free speech thing," he said before the meeting.
Pete Walter, campaign manager for Stringer and Campbell, said Arpaio relishes protests, seeing them as a sign that he was successful in getting his conservative message across to leftists.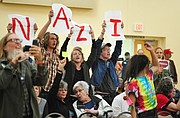 "They were allowed to protest under their First Amendment rights and we were allowed to come back and speak as our First Amendment right," Walter said.
Protesters stood at the parking lot entrance chanting, "Hey, hey, ho, ho. Joe Arpaio has got to go," and near the building entrance held a sign quoting Arpaio, "I already have a concentration camp. It's called Tent City." Young people with plastic ties around their wrists laid on the ground in a "die-in" as they invoked the names of a dozen inmates who died while in custody at Arpaio's jail.
Arpaio attempted to initiate a dialogue with the protesters to no avail.
Inside, Stringer said Republican precinct committee members, Republicans, "and people we know," were directed to seats in the front of the room by volunteers carrying a list of names. Others sat in the back half of the room, which filled quickly, resulting in more rows of chairs being added to that section.
"We want them close to the door in case there is trouble and we need to take them out," said volunteer Beverly Granillo.
Prior to the Town Hall, Yavapai Tribal dog team, trained in bomb detection, walked through the building, and the Oath Keepers checked closets and trash cans.
Sitting in the front row with his Make America Great Again cap, Steve Emery said he wanted to hear what Arpaio had to say and what kind of resistance there might be. He supports Arpaio, but won't be voting for him.
"I love Joe Arpaio, but he's too old. I just don't think he can win against McSally," Emery said.
Carol Hamersley, 74, wearing a "Drain the Swamp" cap, strongly supports Arpaio and said she definitely would vote for him. "For the most part, he's in line with Trump. I voted for Trump," she said.
When the protesters shouted down Arpaio, who temporarily left the room, several people yelled at the protesters to "shut up." People on both sides continued to shout at each other until protesters left and Arpaio returned to the stage.
"Those young people, in my opinion, are not intelligent. They are ignorant. Our school systems have failed us in these kids coming up. They are not getting taught American history. They were probably paid to do it, in my opinion," Hamersley said, after the event.
Another person in the audience threw her full support behind the protesters, saying she was proud of the youngsters.
"This is history-making. These kids need to be applauded," Pat Beitel said.
Campbell remarked after the meeting that he thought it ironic that the protesters tried to shut down the meeting.
"That's what the Nazis did. Nobody has the right to do that," he said. "Fortunately, Arpaio was able to come back."
"I applaud them for leaving. They got their point across and left," Walter said.
Related Stories
More like this story