Amazing Places: Finding a Bagworm by accident while out on a trail

Originally Published: April 1, 2018 6:01 a.m.
Today's article is not about an Amazing Place, but an amazing insect. I have also included an update on the giant juniper – my article from a fortnight ago.
The insect is called a Bagworm – actually the caterpillar of a moth. I found one in September last year, quite by chance while hiking with Rick, a friend of mine, along the E Cross L trail (281). We had never seen or heard of one before, so don't feel bad if it is new to you too.
You can see what it looks like from the photo – about two inches long, clinging to the bark of a large ponderosa pine – the location was at about 6,000 feet.
After the caterpillar emerges from its egg, it weaves a bag of silk, usually incorporating plant material in the outside of the bag for camouflage. If we hadn't stopped by the tree for a drink of water, we would never have realized it was alive.
Until it moved, it just looked like some pine needles that had stuck to the tree. You can see the head of the caterpillar at the top, and its silk bag at the bottom. It can crawl along using its first few legs, emerging more from the bag as needed.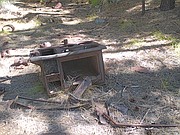 There are many species of Bagworms throughout the world that feed on different trees. Rick asked a naturalist friend about Bagworms – he didn't know they fed on pine needles. Some species eat fruit trees and can be a real pest when numerous, eating so many leaves that the tree dies. For more information on Bagworms, visit pestproducts.com/bag-worm and en.wikipedia.org/wiki/Bagworm_moth.
The second photo is of a century old mining camp, a short distance north of where we discovered the Bagworm. It is the remains of a cast iron stove. There was also an old rusted Chevy engine nearby, probably used to generate electricity for their mining operations. How did they carry them in? Maybe on the back of a mule?
GIANT JUNIPER FOLLOW-UP
I contacted Doug Hulmes, a professor at Prescott College, about junipers and other long-lived trees. I also did some research online. Alligator junipers live only in the Southwest (Arizona, New Mexico, West Texas) and Mexico. The Hotshots' tree is probably the largest in Arizona, but who knows what others junipers are hiding in the woods?!
Doug told me you can't use dendrochronology to date old alligator junipers because the growth rings are not clear. Growth is dependent on wet years (maybe multiple rings in one year) – on dry years there may be no growth. The size of a juniper is not an indication of age – it is much more dependent on the location, and how much water the tree receives.
Another long-lived tree is the bristlecone pine, which can live for around 5,000 years! There is a grove of these ancients northeast of Big Pine in California (near Bishop). There are three species of bristlecone pines, one of which can be found on the San Francisco Peaks, but that species apparently lives only to about 1,000 years (I say only!). Sequoias in California (redwoods) can live for a very long time, maybe up to 3,500 years – they can grow to over 300 feet high. Aspen trees are all connected underground by their root system, so they regrow after a forest fire. How old the root system is cannot be easily determined.
To find out more about amazing trees and to get a map of the E Cross L trail, you will have to contact me via the Courier's senior editor, Tim Wiederaenders, at twieds@prescottaz.com. Subject line: trees.
Nigel Reynolds was born in England and has lived in Arizona for almost 40 years, and in Prescott for over 20 years. "Exploring is in my blood," he says. To see my articles online with the photos in color, visit dCourier.com and enter my name in the search-bar at top right.
More like this story
SUBMIT FEEDBACK
Click Below to: