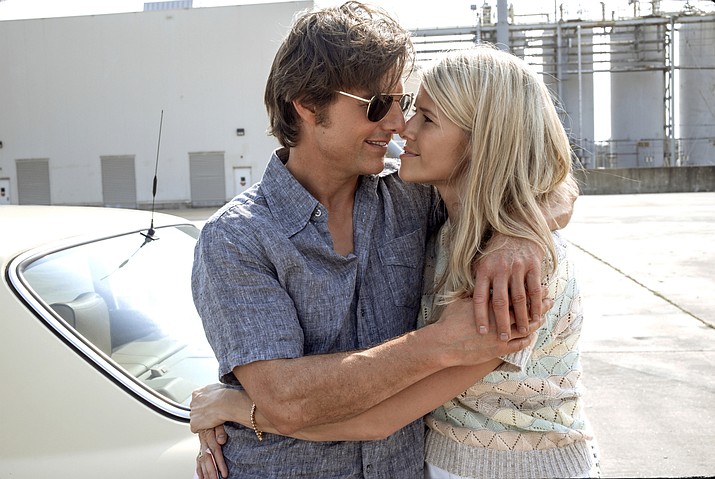 Originally Published: September 28, 2017 9:23 p.m.
Movies playing at Harkins Theatres, 7202 Pav Way, Prescott Valley (Highway 69 between Glassford Hill and Lake Valley roads). 928-775-7444; www.harkins.com.
(NEW) AMERICAN MADE - Barry Seal, a TWA pilot, is recruited by the CIA to provide reconnaissance on the burgeoning communist threat in Central America and soon finds himself in charge of one of the biggest covert CIA operations in the history of the United States. The operation spawns the birth of the Medellin cartel and almost brings down the Reagan White House. Stars Tom Cruise. Rated R for language throughout and some sexuality/nudity. Drama, mystery & suspense.
(NEW) FLATLINERS - Five medical students embark on a daring and dangerous experiment to gain insight into the mystery of what lies beyond the confines of life. The bold adventure begins when they trigger near-death experiences by stopping their hearts for short periods of time. As their trials become more perilous, each must confront the sins from their past while facing the paranormal consequences of journeying to the other side. Rated PG-13 for violence and terror, sexual content, language, thematic material, and some drug references. Drama, horror, science fiction & fantasy.
(NEW) BATTLE OF THE SEXES - The 1973 tennis match between Billie Jean King and Bobby Riggs became the most watched televised sports event of all time. Trapped in the media glare, King and Riggs were on opposites sides of a binary argument, but off-court each was fighting more personal and complex battles. With her husband urging her to fight for equal pay, the private King was also struggling to come to terms with her own sexuality, while Riggs gambled his legacy and reputation in a bid to relive the glories of his past. PG-13 for some sexual content and partial nudity. Comedy, drama, sports & fitness.
(NEW) STRONGER - Jeff Bauman loses both of his legs when two bombs explode during the Boston Marathon on April 15, 2013. After regaining consciousness in the hospital, Jeff is able to help law enforcement identify one of the suspects, but his own battle is just beginning. With unwavering support from his family and girlfriend, Bauman embarks on a long and heroic journey to physical and emotional rehabilitation. Rated R for language throughout, some graphic injury images, and brief sexuality/nudity. Drama.
Also showing:
KINGSMAN: THE GOLDEN CIRCLE – "Kingsman: The Secret Service" introduced the world to Kingsman -- an independent, international intelligence agency operating at the highest level of discretion, whose ultimate goal is to keep the world safe. In "Kingsman: The Golden Circle," our heroes face a new challenge. When their headquarters are destroyed and the world is held hostage, their journey leads them to the discovery of an allied spy organization in the US called Statesman, dating back to the day they were both founded. In a new adventure that tests their agents' strength and wits to the limit, these two elite secret organizations band together to defeat a ruthless common enemy, in order to save the world, something that's becoming a bit of a habit for Eggsy... Rated R for sequences of strong violence, drug content, language throughout and some sexual material. Action & Adventure, Comedy.
THE LEGO NINJAGO MOVIE – In this big-screen NINJAGO adventure, the battle for NINJAGO City calls to action young Master Builder Lloyd, aka the Green Ninja, along with his friends, who are all secret ninja warriors. Led by Master Wu, as wise-cracking as he is wise, they must defeat evil warlord Garmadon, The Worst Guy Ever, who also happens to be Lloyd's dad. Pitting mech against mech and father against son, the epic showdown will test this fierce but undisciplined team of modern-day ninjas who must learn to check their egos and pull together to unleash their inner power of Spinjitzu. Rated PG for some mild action and rude humor. Action & Adventure, Animation, Comedy, Kids & Family.
IT – New Line Cinema's horror thriller "It," directed by Andy Muschietti ("Mama"), is based on the hugely popular Stephen King novel of the same name, which has been terrifying readers for decades. When children begin to disappear in the town of Derry, Maine, a group of young kids are faced with their biggest fears when they square off against an evil clown named Pennywise, whose history of murder and violence dates back for centuries. Rated R for violence/horror, bloody images, and for language. Drama, Horror, Mystery & Suspense.
AMERICAN ASSASSIN – "American Assassin" follows the rise of Mitch Rapp (Dylan O'Brien) a CIA black ops recruit under the instruction of Cold War veteran Stan Hurley (Michael Keaton). The pair is then enlisted by CIA Deputy Director Irene Kennedy (Sanaa Lathan) to investigate a wave of apparently random attacks on both military and civilian targets. Together the three discover a pattern in the violence leading them to a joint mission with a lethal Turkish agent (Shiva Negar) to stop a mysterious operative (Taylor Kitsch) intent on starting a World War in the Middle East. Rated R for strong violence throughout, some torture, language and brief nudity. Action & Adventure, Drama, Mystery & Suspense.
FRIEND REQUEST – Laura, a popular college girl, is very active on social media and shares almost everything in her life with her 800-plus friends on Facebook. However after accepting a friend request from an unknown girl named Marina, Laura becomes obsessed with Marina's profile, and soon her friends begin to die violently one by one. Rated R for horror violence, disturbing images, and language. Art House & International, Horror, Mystery & Suspense.
HOME AGAIN – Reese Witherspoon stars as Alice Kinney in this modern romantic comedy. Recently separated from her husband, (Michael Sheen), Alice decides to start over by moving back to her hometown of Los Angeles with her two young daughters. During a night out on her 40th birthday, Alice meets three aspiring filmmakers who happen to be in need of a place to live. Alice agrees to let the guys stay in her guest house temporarily, but the arrangement ends up unfolding in unexpected ways. Alice's unlikely new family and new romance comes to a crashing halt when her ex-husband shows up, suitcase in hand. "Home Again" is a story of love, friendship, and the families we create. And one very big life lesson: Starting over is not for beginners. Rated PG-13 for some thematic and sexual material. Comedy.
MOTHER! – A couple's relationship is tested when uninvited guests arrive at their home, disrupting their tranquil existence. From filmmaker Darren Aronofsky ("Black Swan," "Requiem for a Dream"), "mother!" stars Jennifer Lawrence, Javier Bardem, Ed Harris and Michelle Pfeiffer in this riveting psychological thriller about love, devotion and sacrifice. Rated R for strong disturbing violent content, some sexuality, nudity and language. Drama, Horror, Mystery & Suspense.
WIND RIVER – "Wind River" is a chilling thriller that follows a rookie FBI agent (Elizabeth Olsen) who teams up with a local game tracker with deep community ties and a haunted past (Jeremy Renner) to investigate the murder of a local girl on a remote Native American Reservation in the hopes of solving her mysterious death. Written and directed by Taylor Sheridan, "Wind River" also stars Gil Birmingham, Jon Bernthal, Julia Jones, Kelsey Asbille, and James Jordan. Rated R for strong violence, a rape, disturbing images and language. Drama, Mystery & Suspense.
THE EMOJI MOVIE – Hidden inside a smartphone, the bustling city of Textopolis is home to all emojis. Each emoji has only one facial expression, except for Gene (T.J. Miller), an exuberant emoji with multiple expressions. Determined to become "normal" like the other emojis, Gene enlists the help of his best friend Hi-5 (James Corden) and a notorious code breaker called Jailbreak. During their travels through the other apps, the three emojis discover a great danger that could threaten their phone's very existence. Directed by Tony Leondis, also starring the voices of Steven Wright, Patrick Stewart and Christina Aguilera. Rated PG, science fiction film/adventure.
LOGAN LUCKY – Trying to reverse a family curse, brothers Jimmy (Channing Tatum) and Clyde Logan (Adam Driver) set out to execute an elaborate robbery during the legendary Coca-Cola 600 race at the Charlotte Motor Speedway. Rated PG-13 for language and some crude comments. Comedy.