Originally Published: September 24, 2017 6:02 a.m.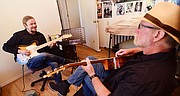 Being a working musician isn't just about having fun with what you love.
It's a business that needs to be managed and funded.

Though far from ideal for a musician seeking to make a living solely through music, Prescott has served as a nurturing environment for talented musicians either just starting their careers, winding down their careers, or working on perfecting their craft before trying to break out.
"We have a good music scene for as small of a town as we have," said Drew Hall.
Hall, 40, is a local anomaly. Through his talent, dedication and amicable nature, he's been able to support himself, his wife and their two children purely with music.
"Most of the players I know locally have another job," he said.
To ensure a decent income, he'll gig about four times a week at mostly local establishments with his various bands and teach private music lessons during the day.
An integral part of all this is organizing gigs and marketing them. While some musicians and bands have managers or booking agents, many, like Hall, rely on themselves to do the work.
"I know in order to pack a room I have to promote and advertise, and also be professional: make sure that we're there on time, not take crazy long breaks and make sure that everyone is on the ball," Hall said. "I think some people think that because music is fun, it's not to be taken seriously, but it is. If you're a working musician, it is your job, it's what you do. It's no different than if you were a plumber or an electrician."
Were Hall in a larger market like Chicago, Los Angeles or even Phoenix, he'd probably not have to teach as much as he does — 60 to 70 half-hour lessons a week — to get by.

This is why most other ambitious musicians who spend time in Prescott don't tend to stick around as long as Hall has.

Take Brian Moss, 32, for example. He came to Prescott in 2009, spent several years working diligently with mentors like Hall to enhance his skills, and ended up moving to Phoenix this last year with a group of driven bandmates hoping to expand their brand. Their band, Spafford, now has a considerable following.
Part of reaching a point of moderate success was forcing themselves to step outside of their creative minds and look more seriously into the practical matters of the situation.
"We sat outside of Cuppers Coffee in Prescott and wrote a five-page, three-year business plan," Moss said. "It may have taken a little bit longer than three years to achieve what we wanted to do, but at this point, everything that is on that original business plan has been fulfilled and now we need a whole other one."
Breaching the national music scene — which was their primary goal — was far from easy.
"The first four or five years were tough," Moss said. "There have been times when we've looked at it and been like 'Man, what are we doing?'"
Money was tight, vehicles were constantly breaking down during tours, and the work was demanding.

"It was over and over and over again," Moss said. "Hitting those eight- or nine-hour drives from show to show. I remember one year we had five nights in a row for four weeks. It was a big northwest run. We were playing three-and-a-half hour shows each night, setting up a whole lighting rig, all of our gear, and we were the drivers, we were the roadies, and the musicians."
But it has all finally started to pay off, and Moss mostly credits their commitment for it.
"There was always hope and always a sense of belief in ourselves and each other on what we were doing," he said.
Of course, in retrospect, luck also seems to have been a factor.
"It's definitely a hard business to tap into," Moss said. "I think we were just in the right place at the right time for a lot of the things that we were doing and the fact that we didn't give up."

More like this story