Prep Mountain Biking: New Ravens club gives kids a chance to race
By
Doug Cook
|
dougout_dc
Originally Published: September 24, 2017 6:05 a.m.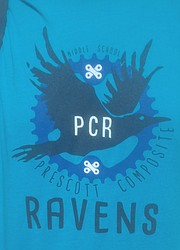 Forty-eight boys and seven girls comprise the inaugural Prescott Composite Ravens middle school mountain biking team, established by businesswomen Kate Phelan and Cina McConaughy, who are passionate about developing area youngsters into cycling enthusiasts.
On Saturday afternoon, the Ravens competed in their first large-scale Arizona Interscholastic Cycling League (AICL) junior-high race at Pioneer Park in north Prescott. Several teams with members from across Arizona congregated in the dirt and paved lots around the spacious hilly-and-wooded venue for the 6-mile race. Many of the riders traveled here with their families and spent the night in trailers or tents.
"Our goals are to just create lifelong cyclists," said Phelan, whose Ravens team has 11-, 12-, 13- and 14-year-olds. "We want these kids to be turned on to mountain biking and have it be something that they can fall back on in their lives and enjoy their whole life.
"When they're 35 and they had a hard day at work, they want to go out and spin and just get out in nature and enjoy – that is really the best part."
Saturday's event was a precursor to today's AICL race for high schoolers, also at Pioneer Park. Prescott's high school race represents the league's second of five competitions in the 2017 season under the umbrella of the National Interscholastic Cycling Association (NICA). Points accumulated in each of the races determine team and individual state champions at the end of the season Nov. 5 in Waddell.
Phelan and McConaughy, owners of Prescott's Soul Ride mountain bike shop since April 2015, are impressed with and inspired by the 55 bicyclists they coach. Donning turquoise-and-black racing suits with their team's catchy logo on the back, most riders hail from Prescott and Prescott Valley.
"From here, they'll go and join their respective high school teams," Phelan said. "And the idea is that they will have the skills necessary to join a team and be part of it, and race at a different level."
This past spring, the duo formed a team at the urging of Monica Fabian, the mother of Paul Fabian, who won an individual varsity state championship with Prescott High School in 2016. Monica noticed Phelan's coaching ability when the latter had worked with young mountain bikers at Prescott Mountain Biking Association youth rides.
Phelan and McConaughy's 55 riders either attend one of five area middle schools or are homeschooled. Five trained volunteer coaches attend practices with 12 certified volunteers. Phelan and her husband, a volunteer, have two children on the Ravens team.
One of them, eighth grader Reilly Phelan, 14, is the Ravens' girls' co-captain who attends BASIS Prescott. Reilly's raced bikes for two years, although she hadn't been on a squad until now.
"It's been really great to be able to have more of the community that mountain biking has just by nature," Reilly said. "But now I feel a little bit more like I'm able to participate in it."
Boys' co-captain Ethan Wright, 13, an eighth grader at Prescott Mile High Middle School, said mountain biking has opened a whole new world of enjoyment for him.
"The racing – it's been kind of great," said the jovial Wright, who rides four days a week. "I've never really raced before, so this is a new thing for me. It's actually really fun to do it with a team instead of just by yourself."
Co-captain Jacob Collins, 14, an eighth grader at Bradshaw Mountain Middle School near Dewey, said he learned about the Ravens by riding with Bradshaw Mountain's high school team. Its members told him about Monica Fabian and her connections with the new squad.
"I've been riding a bike since I was like 4," Collins said. "It's great for the hometown [to have the Ravens]. I want to do the best that I can and just try to get as far as I can without messing up. The team's been doing really great, and I just hope to see them all finish strong and do their best."

Chino Valley High School coaches Chris and Janice Dunn raced their own five-member team from Heritage Middle School on Saturday. Their squad has all boys, including three eighth graders and two seventh graders. Chris said the middle schoolers, many of whom have older brothers and sisters who race in high school, also crave to compete. Janice added that she and Chris want to make it fun for the 11- through 14-year-olds.
"The cool thing about mountain biking is that you can show up as an individual and ride your own ride, but you're part of a team," McConaughy added. "It's really great for people who are looking for cross-training and not a ball sport."
Along with word of mouth, coach Phelan said the area schools in Prescott and Prescott Valley have helped promote the Ravens' composite middle school team of sixth, seventh and eighth graders.
"We want them to get out and enjoy what's under their nose on these trails [in Prescott]," Phelan said. "Initially we thought, 'Oh, we'll maybe get 20 people – 20 kids that'll want to do this.' And then it went to 30, and then it went to 40, and we never wanted to leave anybody out."
Once the team reached 55 cyclists, however, Phelan and McConaughy drew up a waiting list.
"Next year, sign up early," Phelan said. "This is one of the best things we've been a part of, and it's a community effort. We feel super-excited for what's to come, and to grow the sport of mountain biking in the town of Prescott is our honor."
More like this story
SUBMIT FEEDBACK
Click Below to:
This Week's Circulars
To view money-saving ads...