Prep Football: Bears drop to 0-5, fall to Flagstaff in region opener
By
Doug Cook
|
dougout_dc
Originally Published: September 23, 2017 12:14 a.m.
After suffering through four weeks of heartache, the Bradshaw Mountain football team still could not find its way into the win column Friday night.
The Bears have now lost five straight contests to start the 2017 season, falling to Flagstaff, 44-37, in their Grand Canyon region opener on Homecoming.
Photo Gallery
BMHS vs Flagstaff Homecoming 09 22 17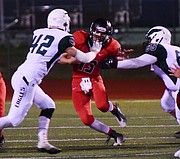 With the loss, defending region champion Bradshaw Mountain dipped to 0-5 overall and 0-1 in region. Flagstaff, meanwhile, remained unbeaten at 5-0 and 2-0.
"First of all, a lot of credit to Bradshaw," Flagstaff coach Bob Castillo said. "To get to this point, we knew we had to beat Bradshaw. They've had our number since 2006, and so we knew we were up against a great opponent no matter what their record is. Great finish for us, and we were just happy to come out ahead."
The Bears could not avoid matching the program's first five-game losing streak in five years dating back to the end of the 2012 campaign. Two of Bradshaw Mountain's setbacks this season, in weeks 2 and 4, respectively, came by a combined nine points. The misery continued against the red-hot Eagles.
"I haven't had much experience with 0-5," first-year Bears coach Chuck Moller said. "We've just got to keep doing what we're doing. Whether or not we see it in the wins and losses, we are improving.
"We're moving the ball. We've got to stop the self-inflicted wounds."
Bradshaw Mountain led 9-0 with 9:25 left in the second quarter on a Brandon Fischer 41-yard field goal and an Austin Gonzalez 30-yard touchdown pass to Devon Olson. With 4:21 to go until intermission, Gonzalez tossed his second TD pass to Bryan Price to claim a 16-7 advantage.
"Throughout the game, we started out pretty strong, coming out on top, and then we just kind of let up," Bradshaw Mountain senior co-captain Timmy Young said. "We started missing tackles, started missing our assignments. We lost the mental focus."
And that's when the game turned in favor of the Eagles. Flagstaff proceeded to score 10 points in the final 20.4 seconds of the first half to carry a 17-16 lead into halftime. Dillon Joseph scored on a 1-yard TD scamper with 20.4 seconds to go. Then Gonzalez fumbled on the Bears' ensuing possession, handing the Eagles the ball at Bradshaw's 20. Kicker Oscar Castruita drilled a 32-yard field goal as time expired.
The second half started poorly for Bradshaw Mountain, too, as Flagstaff scored touchdowns on three straight possessions for a 37-16 edge. The Eagles scored 30 unanswered points, which deflated the Bears.
"We're not really coming together right now," Bradshaw junior defensive back Logan Brannan said. "The whole team's really down, and everybody wants to quit, but we can't do that. We've got to come back from this. We've got to keep building and building and building."
Nevertheless, Bradshaw Mountain battled back, as Gonzalez threw the third of his five TD passes on the evening with 8:40 to go in regulation.
Trailing 37-23 with 2:04 left, at the end of a lengthy Bears drive, Flagstaff safety Shane Lusk iced the victory for the visitors with a 100-yard interception return for a touchdown.
Down 44-23 with 2:04 remaining, however, Bradshaw scored two more TDs, as Gonzalez found Ayden Otero for completions of 66 yards (1:38) and 2 yards (25 seconds).
An onside kick did not work for Bradshaw at the tail end of the contest, as Flagstaff recovered.
"Up until this point, the defense has carried us, for the first four games," Castillo said of his Eagles' early-season success. "And all of our DBs [defensive backs] were put to the test tonight. That was the difference right there on that [interception] return."
Power Points
The Arizona Interscholastic Association (AIA) will release its first power-point rankings of the 2017 season on Tuesday, Sept. 26. Only the Top 16 teams, including eight region champions and eight at-large teams based on ranking, earn invitations to the 4A State Tournament, which begins Nov. 3.
UP NEXT
Bradshaw Mountain continues on in region action at 7 p.m. Friday, Sept. 29, when it travels to Cottonwood to lock horns with Yavapai County rival Mingus Union.
Flagstaff plays host to non-region foe Thunderbird at 7:30 p.m. Sept. 29, in Walkup Skydome on Northern Arizona University's main campus.
Follow Doug Cook on Twitter @dougout_dc. Reach him at 928-445-3333 ext. 2039, or via email at dcook@prescottaz.com.
More like this story
SUBMIT FEEDBACK
Click Below to:
This Week's Circulars
To view money-saving ads...