Say 'prost'! Oktoberfest is back

Originally Published: September 21, 2017 9:27 p.m.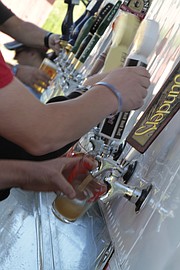 Lift your stein, say "prost" and drink. Prescott's Oktoberfest returns this weekend with 60 beers on tap at Mile High Middle School.
Though last year's Oktoberfest was a two-day event, it's back to one day on Saturday, Sept. 23, this year, with Event Organizer Steve Gottlieb stating that the Prescott Sister Cities organization wanted to do two days to see what would happen.
"Nobody ran a beer event on a Sunday. You know what I learned? Don't mess with the churches," Gottlieb said. "Sunday is their day. We're not going to pour beer ever again on a Sunday."
Moving to Mile High Middle School, 300 S. Granite St., last year after outgrowing the street in front of Prescott Brewing Company did work out, though, as it was a beautiful expanse, Gottlieb said. This year, there'll be tons of grass and it'll be busy, he said.
Starting at noon on Saturday, there'll be food available from Papa John's, Safari Samosas, White Eyes Fry Bread, Granite Mountain Smokehouse and JJ's Louisiana BBQ and Brats and pretzels to go along with 60 beers on tap from Hensley Select German and Arizona craft breweries, as well as 70 different types of wine from Trader Joe's. The goal was to get the best beer portfolio out there, Gottlieb said.
"When you want to talk craft beer and capability getting beers from Munich, these beers that are German were shipped from Munich. These are real, authentic German beers that are going to be tapped," he said, commenting that the only other beer festival in the state that has German beers is in Tempe. "So we're it. If you want German beer direct from Munich, you can come up to Prescott or two weeks later, you can go down to Tempe."
Breweries include Modern Times, 10 Barrel, Golden Road, Weinstephan, Franziskaner, Spaten, St Kil Bit Burger, Hangar 24, Lumberyard, Sierra Nevada, Stone, Victory, Granite Mountain Brewing, Shock Top, Hoeggarden, Veltins, Goose Island, Elysian, Kona, Mudshark, Barrio, Mother Road, Prescott Brewing, Widmer and Rogue.
The pint glasses used may be from last year and the year before, Gottlieb said, remarking he placed an order from Discount Mugs which is based in Medley, Florida. They're currently in production but if they come late, he won't cancel the order, he said.
"They need my business," Gottlieb said, adding that if the supply of previous years' pint glasses is exhausted, the plan is to use sampling cups. "These pint glasses will be really cool this year if they get here because they've got a really good story behind them."
At 1 p.m., Prescott Brewing Company will do a mayor's toast, tapping a five-and-a-half-gallon pin keg, Gottlieb said. The Sister Cities organization committee will toast and talk about where the money from last year went and how many kids they were able to take to Germany, he said, noting that Prescott High School and Bradshaw Mountain High School both have German programs because of this event.
That'll be followed by live polka music from 1 to 3 p.m. and The Tone Kings from 4 to 6 p.m.
Admission is $25 for 12 sample tickets presale and $35 for 12 sample tickets on the day of the event. For more information or to purchase presale tickets, visit www.prescottevents.net.
More like this story
SUBMIT FEEDBACK
Click Below to: