Trump says if he must, he will 'destroy' North Korea
President tells UN that if he needs to protect U.S. or its allies, he will
Originally Published: September 20, 2017 5:50 a.m.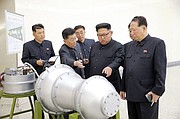 UNITED NATIONS (AP) — President Donald Trump vowed Tuesday to "totally destroy North Korea" if the U.S. is forced to defend itself or its allies against the renegade nation's nuclear weapons program, making his case in a combative debut speech to the U.N. that laid out a stark, good-vs-evil view of a globe riven by chaos and turmoil.
Trump's broadsides against "rogue regimes," North Korea chief among them, drew murmurs from the assembled world leaders and served as a searing salute to his nationalism during diplomatic prime time. He said it was "far past time" for the world to confront Kim Jong Un, declaring that the North Korean leader's pursuit of nuclear weapons poses a threat to "the entire world with an unthinkable loss of human life."
"Rocket man is on a suicide mission for himself and his regime," Trump said, mocking the North Korean leader even as he sketched out potentially cataclysmic consequences. The president himself decided to work the nickname into his speech just hours before he took the dais, according to aides.
Trump spoke of his own nation's "patience," but said that if "forced to defend itself or its allies, we will have no choice but to totally destroy North Korea."
Trump's overheated language was rare for a U.S. president at the rostrum of the United Nations, but the speech was textbook Trump, dividing the globe into friends and foes and taking unflinching aim at America's enemies. North Korea's ambassador and another top diplomat left the General Assembly chamber before he spoke to boycott his speech, leaving behind two empty chairs.
The president urged nations to work together to stop Iran's nuclear program and defeat "loser terrorists" who wage violence around the globe. He denounced "radical Islamic terrorism," an inflammatory label he had shied away from in recent months after trumpeting it on the campaign trail. He called Syrian President Bashar Assad's government a "criminal regime." He said violence-plagued regions of the world "are going to hell." He made little mention of Russia.
For all of that, he said there was still hope the United Nations could solve "many of these vicious and complex problems."
But he focused more on the problems than the hopes.
His lashing of North Korea was a vigorous restatement of what's been said by U.S. leaders before, but delivered with new intensity in the august setting of the General Assembly. After a litany of accusations — the starvation of millions, the abduction of a Japanese girl and more — he questioned the legitimacy of the communist government by referring to it as a "band of criminals."
More like this story
SUBMIT FEEDBACK
Click Below to: