Model Aviators hold fun fly
Model aviation attracts across generations, says event organizer

Originally Published: September 20, 2017 6:03 a.m.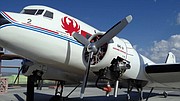 The Chino Valley Model Aviators are taking to the skies this weekend as the club holds its annual Steve Crowe Memorial Fun Fly.
Model aviation is one of those hobbies that definitely bridges the generational gap, said event organizer Marc Robbins.
"We have young guys, some teenagers and our oldest flier is 91 years old," Robbins said. "He's really active."
The club goes out of its way to help those who are just getting into the hobby as well, he said, noting that there are instructors that can help people learning to fly using the club airplanes. That way, they don't have to invest in one themselves when learning how to fly, Robbins said.
Still, model aviation is cheaper than it used to be due to the advances in the last 10 to 15 years in electronics and batteries, he said. Batteries used today are lithium polymer, such as the ones in a cellphone or computer, Robbins said.
"Instead of spending six months building a model and then going out and crashing and crying, you can just buy a prebuilt model now," he said, remarking that most of the prebuilt beginner models are made out of foam. "For about $150, they can get in the air today, completely ready to go without having to do any building. The entry point is actually a lot better than it used to be."
Set for Saturday, Sept. 23, from 8 to 3 p.m. at 2025 Santa Fe Trail, the Fun Fly will see planes of all different sizes, helicopters and a turbine-powered remote control plane, Robbins said. The turbine-powered planes are expensive and fast, he said. There'll also be a 50/50 raffle and a food vendor serving breakfast and lunch.
The fun fly is named after a club member by the name of Steve Crowe, who was originally a volunteer with the British Air Force during World War II prior to the United States' involvement, Robbins said. Once the U.S. did get involved, he became a flight instructor, Robbins said.
"He passed away about five years ago and we've been having this memorial fun fly in his name ever since," he said.
Though there's no entry fee, there will be an opportunity to donate and all donations will go to the Chino Valley Food Bank. The club wanted to do something for a local charity and a few ideas were tossed around, but the food bank seemed like the most local charity to give to in Chino Valley, Robbins said.
Model aviation is fun and real social and the fun fly is no different, he said, mentioning a big aspect of being in a club such as the Chino Valley Model Aviators is the social aspect.
"You get to sit around with your buddies, talk about flying planes, talk about what the weather's going to be like. It's a social activity as well as a challenging hobby if you want it to be," Robbins said. "You can challenge yourself as much as you want. There's always a new skill to learn and a new maneuver to learn when you're in the air."
For more information on the club or the Steve Crowe Memorial Fun Fly, visit www.chinovalleymodelaviators.org.
More like this story
SUBMIT FEEDBACK
Click Below to: