Prep Soccer: Cougars find their groove offensively, rout Payson 11-0
Krogh records hat trick, Gomez adds two scores in big victory

Originally Published: September 19, 2017 6:54 p.m.
Updated as of Wednesday, September 20, 2017 1:01 PM
EDITOR'S NOTE: The Chino Valley athletic department notified The Daily Courier sports desk Wednesday morning of a change in the schedule. See below for details.
Coach Allen Foster said before Tuesday's match he was unsure how much fire power his defending state champion club could muster this year offensively after averaging just two goals per contest to begin the season.
By comparison, the Cougars scored 109 total goals in 2016, averaging just a tick over five scores per match.
Well, the Chino Valley girls' soccer team quickly dispatched any concerns their coach had, netting nine goals in the first half and finishing with an 11-0 shutout victory over Payson on Tuesday afternoon.
The Cougars scored 14 goals in the first seven contests this fall.
It is the third win in the last five matches for No. 3-ranked Chino Valley (5-3-1, 1-1 2A Central), which played without leading scorer Lauren Foster (bone bruise) and midfielder Ashley McGuffey (concussion).
Photo Gallery
Chino Valley vs Payson Girls Soccer 091917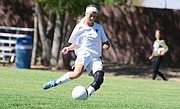 A year ago, Chino Valley hoisted the program's first 2A state championship trophy, finishing the fall with an almost perfect 20-0-1 season.
The Cougars lost Katie Farnsworth to graduation in May. She led the club with 40 goals scored in 2016, by far one of the best individual seasons put together by any one player in not only the history of the program, but the 2A conference.
And now that the 2017 season has arrived, Foster has noticed his players putting a little bit more pressure on themselves than usual, something he hopes will be cured after Tuesday's big win.
"They needed it. … A game like this is good for our confidence, especially for some of the younger girls who haven't found that success against the tougher teams," Foster said. "We have the toughest schedule in the league, and we started off tough."
The Cougars opened the season with a 3-1 victory over Snowflake on Aug. 29, but tied Round Valley 1-1 in two overtimes, than lost 2-1 to Northland Preparatory a week later.
If that wasn't enough, Chino Valley suffered another loss to Round Valley (1-0) in the Show Low Invitational a week ago, and were outscored 6-1 by Northland Preparatory in the same tournament.
"Every game they've stepped out onto the field this year, you can see the pressure they put on themselves, being returning state champs, I think it's eating them up," Foster said. "So to get a game like this under our belt, it will do us some good."
Jessie Krogh began the scoring for Chino Valley, netting back-to-back goals in the 2nd and 6th minute of regulation to put the Cougars up 2-0.
Julz Elsea added a goal in the 21st minute to make it 3-0, then Krogh recorded the hat trick with her third goal just seconds later and Payson never recovered.
The Longhorns (0-4, 0-2 2A Central) have been outscored 29-1 this season.
Krogh, a freshman forward, said her club "communicated well" after struggling in previous matches.
"[This win is] going to give us more confidence so we can play better against other teams now that we have a big win under our belt," Krogh said.
Kacey Matthews, a sophomore goalkeeper, felt the defense was much better Tuesday after Foster inserted a new setup in practice Monday.
"We tried that out today and it worked out well, we communicated better. I have to talk more to my defense. I think it will go well," said Matthews, who recorded her third shutout of the season between the posts.
"This will boost our confidence," Matthews said about Tuesday's win. "We struggled in the beginning of the season, we had some tough games, but I think we can come out with another state title if we keep pushing it."
Other Cougars to score multiple goals included Yeni Gomez (22nd and 31st minute) and Allie Nichols (62nd and 73rd minute).
UP NEXT
Chino Valley welcomes the Sand Devils from Page for a home match Thursday, Sept. 21. Official start time is set for 4 p.m.
The Cougars were originally scheduled to travel to Page on Thursday, but the athletic department notified the media Wednesday morning the match was moved to Chino Valley.
Brian M. Bergner Jr. is associate sports editor and a columnist for The Daily Courier. Follow him on Twitter, Instagram and SoundCloud at @SportsWriter52, or on Facebook at @SportsAboveTheFold. Reach him at bbergner@prescottaz.com or 928-445-3333, ext. 1106.
More like this story
SUBMIT FEEDBACK
Click Below to:
This Week's Circulars
To view money-saving ads...