Embry-Riddle's brand-new STEM building up and running
Planetarium expected to be ready for public viewing by early October

By
Max Efrein
|
mefrein
Originally Published: September 19, 2017 6 a.m.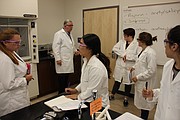 Twenty-two million dollars.
That's how much money Embry-Riddle Aeronautical University spent/raised to construct its brand-new STEM (science, technology, engineering and mathematics) Education Center.
The price shows in the quality of the facility.
State-of-the art classrooms, labs and equipment are around every corner of the two-story building. And attached is northern Arizona's first planetarium.
Throughout the building are names of organizations, businesses and individuals who helped to fund the project.
For instance, there's the Raisbeck Engineering Design studio, which supports mechanical engineering and multi-disciplinary design courses.
Then there's the Keickhefer Foundation Forensic Lab, which empowers students with industry-grade forensic biology equipment.
Another is the Drs. Charles and Elizabeth Duva Robotics Lab, which supports multiple courses, labs and studies in the ever-growing field of robotics engineering and programming.
Even the planetarium is named after a generous couple: Jim and Linda Lee.
Such donations ranged from $30,000 to $2,500,000, said Steven Bobinsky, ERAU's executive director of development.
As a world leader in aviation and aerospace education, ERAU felt the facility was necessary to provide its students with the cutting-edge resources needed to stay ahead in their fields of study.
"The purpose of this building is to get those lab opportunities for students," said Andy Fraher, director of STEM outreach for the university. "Our degree programs are all very hands on, so for students to have the chance to actually do the work that they're learning about and putting in the practice to create something, take it and test it, that's the key thing."
Labs for such work had already existed on campus, but were worn and outdated.
The former chemistry lab, for example, was "just a mess," Fraher said.
"It was not really functional any longer," he said. "There were too many chemical spills and too much into the environment underneath it, so they're removing that."
Faculty and students have already begun using the new facility for coursework.
The only part of the building that is still receiving finishing touches is the Jim and Linda Lee Planetarium. The 35-foot dome theater features 116 seats and a powerful digital projection system. Designed for community use, it will soon be open to the public.

"We are planning to bring a lot of different events into this space," said Eric Edelman, Planetarium Tech/Coordinator, as he walked through the dome. "There are a lot of ways we can do STEM in here, as well as entertainment."
One such use will be to invite middle and high school students from throughout the greater Prescott area to visit and experience some of what today's newest technology has to offer.
"We can do programs that will be very content focused and specific to help be more interactive with the students," Fraher said. "The periodic table is a good example. If we had a chemistry class coming in here, we could do things with that that they may not be able to see on a projector and screen in a classroom."
These public offerings are expected to begin in the next couple of months.
"We'll be expanding gradually and getting to a place where we can comfortably invite a greater number of people in from outside campus," Edelman said.
More like this story
SUBMIT FEEDBACK
Click Below to: