Originally Published: September 18, 2017 6:02 a.m.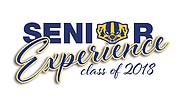 Editor's note: This is part of an ongoing series of articles looking at senior year through the eyes of four Prescott High School seniors. Today: Cheerleader Kirsten Hillig.
Prescott High School senior Kirsten Hillig grabbed a black scrunchie to match her homecoming pep rally T-shirt, and cheerleading uniform, on Friday morning and suffered a wave of melancholy.
Amid a hectic week of homecoming rehearsals, parades and dances, Kirsten's morning ritual prompted an unwanted reality: this would be the last time she dressed for a high school pep rally.
The past week has been a flurry of back-to-back activities and rehearsals, and though the schedule has invoked some stress, Kirsten said she is not ready for these celebrations to be a memory.
"It has just been go, go, go, no time for a break," Kirsten said. "Homecoming is one of the most fun weeks of the year, but is also one of the most stressful times of the year."
From Monday through Friday, Kirsten and her twin sister, Kara, have been on a nonstop schedule of homecoming activities that have left little for anything else, including homework and sleep. But Kirsten admits it has also been a thrill because as a senior she has had more opportunities to be more involved.
On Friday morning, the senior cheer squad performed in front of the entire school, and even when they suffered a glitch with their performance music the girls continued on to appreciative applause from all of their high school peers. It was a moment that will reverberate in Kirsten's memory for years to come.
"I've liked all of it," Kirsten said of the homecoming week festivities. "The pep assembly is always fun. The whole school gets to see the cheer team perform. All of the students going crazy … it's the best feeling ever. It's all just been amazing."
The gymnasium started to fill at 9 a.m. and students didn't file back to class until about 10:30 a.m. The energy and enthusiasm was palpable as freshmen to seniors cheered for one another, for their football team scheduled to match up against Moon Valley High School for the homecoming game. There were skits and hip-hop dances and cheer team pyramids.
Chants of "Seniors, seniors, seniors" was just one tiny bit of the "spirit" the Class of 2018 showcased for the underclassmen who soon enough will be experiencing the highs, and lows, that come with celebrating such a fun-filled week that will lead to yearbook photos and timeless memories.
"She's been really stressed out all week, but she's also had some fun," admitted Kirsten's friend and fellow senior Carissa Evans. Evans and Kirsten's twin said this has been a time they would not have wanted to miss.
"I love spirit week. It's just so much fun," Evans said.
PHS Assistant Principal Amy Buettner said homecoming week is one of the times during the year that really brings students from all grades and interests together. Yet often the magnitude of this celebration is not recognized until long after students pack away their caps and gowns.
"I hope it's a whole lot of fun and memorable for all the right reasons," Buettner said, reminiscing some about her own homecoming festivities. "Senior year is often when our students realize how much fun being at PHS really is."
Related Stories
More like this story