Ask the Contractor: Your paint questions answered
Originally Published: September 15, 2017 6:04 a.m.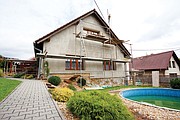 We are considering painting the exterior of our home and the painter wants to use a Sherwin-Williams product called Duration. We went to the local Sherwin-Williams store and good golly miss molly — that stuff is expensive. Does the extra expense make it worth the effort?
— Bill, Cottonwood
Choosing an exterior paint for your home is not just difficult. It's terrifying! There are enormous titanic amounts and varieties of exterior paints, coatings and primers to choose from and it can be confusing. You asked about a specific product so our column is going to tell you about that specific product.
Duration (Lifetime Warranty)
Sherwin Williams' Duration with PermaLast Technology, although expensive is arguably the best choice for exterior paint on the market today! Duration is continually ranked #1 in Consumer Report magazine. It is nearly twice as thick as ordinary house paint, 7 mils versus 4 mils, and far more flexible. It is formulated with advanced acrylic co-polymers which make it last much longer than even the most premium exterior paint and it goes on 70 percent thicker than ordinary house paint. It has superior hiding and coverage and can perform at temperatures as low as 35 degrees F or 2 degrees C with no problems! Duration is an outstanding paint that will not peel or blister, and comes with a unique one-coat warranty on repaints.
Yes, Sherwin-Williams agrees that you will benefit from a wealth of advantages when you use Duration® Exterior Acrylic Coating. Excellent durability and hide, Duration is formulated with PermaLast® technology for long-lasting performance. A thick flexible layer provides resistance to peeling and blistering. Duration is self-priming, offers a mildew-resistant coating and is backed by a lifetime warranty for as long as you own your home.
I looked at the paint and wow is it thick — I mean really thick! Because Duration is self-priming, it provides superior one-coat coverage on previously painted surfaces and requires only two coats for new, never-painted surfaces.
Duration is and is available in flat or satin and in a complete range of colors, both exterior and interior. Duration can be used on wood, stucco, masonry/cement composition panels, aluminum, vinyl products and galvanized metal.
The Duration brand is an excellent material for protection from cracking, peeling and blistering, and meets the most stringent VOC regulations.
In Arizona, the exterior of a home needs to be painted approximately every 6-8 years.
Another question arrived this week that pertained to paint turning yellow. Our walls are looking yellow and the paint is white. What is happening?
— Mark and Cindy, Prescott Valley
Development of a yellow cast in aging paint, most noticeably in the dried films of white paints or clear varnishes, can be caused by some of the following situations:
• Exposure to heat from stoves, radiators, and heating ducts.
• Lack of light, for example, behind pictures or appliances and inside closets.
• Normal oxidation of oil-based paint or varnish.
• Exposure of oil-based paints to household cleaners that contain ammonia.
• Tobacco staining or other environmental contaminants.
• Moisture.
There are some solutions and more than likely since it is noticeable to you repainting is necessary. You should repaint using a high-quality latex paint which does not tend to yellow. Oil-based paints tend to yellow. However, keep in mind if whatever has caused the yellowing continues, any new coating will likely yellow as well.
HELP: I agreed beyond my better judgement to let my husband be a DIY painter. Now we have walls that look like they are two different colors in the corners of some of the rooms. Now what?
— Katheryn, Prescott Valley
What you have taking place is a non-uniform color effect that can appear when the corners are first cut in with a brush, and then the walls are rolled. I am assuming that is what your husband did. If the brushed areas generally appear darker, this is called picture framing. Without creating disharmony, the cause of this is a coverage issue where brushing will generally result in a thicker film than rolling and now you have an uneven coat of paint. Not quite sure how to fix this DIY issue except to possibly re-roll the walls with the problem and not touch the corners?
Remember to tune in to YCCA's Hammer Time every Saturday and Sunday morning at 7 a.m. on KQNA 1130 AM/99.9 FM or 95.5 FM or the web kqna.com. Listen to Sandy and Mike talk about the construction industry; meet your local community partners and so much more.
More like this story
SUBMIT FEEDBACK
Click Below to:
This Week's Circulars
To view money-saving ads...