Hundreds of items up for auction at Smoki

Originally Published: September 14, 2017 9:13 p.m.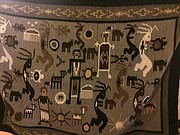 Hundreds of historic and contemporary Navajo weavings and pieces of authentic Native American art are set to be up for auction this weekend for the Smoki Museum's annual Fall Navajo Rug and Indian Art Auction.
There are more than 300 rugs and 100 pieces of art for Saturday, Sept. 16, and another 100 pieces of art for Friday, Sept. 15, said Museum Executive Director Cindy Gresser. One such item is a storyteller Concho belt, she said, noting that those types of belts are unusual in and of themselves.
"It's overlay and tells a Kachina story. Each piece is different as you go down the line, you can identify different cultures and different things," she said, commenting on such designs as a Comanche, a Mudhead and an eagle. "It's telling a story of all the different Kachinas that come and visit."
Another piece of art is a Navajo folk carving that's called "The Catcher of the Skinwalker," Gresser said. According to the Navajo Legends website, a Skinwalker is a medicine man or witch that attained the highest level of priesthood in the tribe and used their power for evil by taking on the form of an animal to inflict pain or suffering. It's one of the more complex of Navajo legends, the website states with Gresser commenting that while the Navajo people do create folk carvings, they don't usually talk about Skinwalkers.
As for rugs, some of the more exciting pieces include a Two Grey Hills rug and a Chief's Blanket, both donated to the museum, and a round rug made by weavers who will not demonstrate how they weave their rugs, Gresser said. One even has a weaving called an overlay basket weave design envisioned by someone who thought it would be a great rug design but had to get permission, she said.
"He actually had to go to the elders to get approval to be able to use that design in Navajo weaving. He … engaged this Navajo weaver to create this blanket," Gresser said. "It's going to be a great auction."
The last rug auction sold more than $10,000 worth of items and was the museum's major fundraiser of the year, Gresser said. The hope is to sell at least that if not more, she said, remarking that because the items are of such great quality, she has a feeling it's going to happen.
There's something for everyone and a percentage of every sale goes to the museum for general operating costs, Gresser said.
"It takes a lot of money to run a museum," she said. "And it takes a lot of money, particularly, to keep these old buildings up to code."
The auction starts promptly at noon with a preview from 9 to 11:30 a.m. on Saturday at the museum, 147 N. Arizona Ave. There will be free wine and beer for registered bidders, Gresser said.
SUBMIT FEEDBACK
Click Below to:
More like this story