Treasuring senior moments: 4 PHS seniors are ready for best year of their lives (so far)

By
Nanci Hutson
|
HutsonNanci
Originally Published: September 13, 2017 6:01 a.m.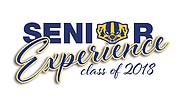 From the time a child steps into their kindergarten classroom and picks up their first box of crayons, the clock is ticking to the day when that little girl or boy reaches what is a national rite of passage: high school graduation.
To celebrate this special time in a students' life, the Daily Courier will spend the school year chronicling the senior journey through the eyes of four Prescott High School seniors: the last-time activities, the classes, the homework, the after-school jobs, the college, military or career application processes, and the decisions that will be a hallmark of what one Class of 2018 member said will be their "curtain call."
Meet the seniors:
Kody Jones: Kody is a born and raised Prescottonian. He started out his educational career at Taylor Hicks Elementary where he was the school mascot: a bobcat. From there, he spent three years at Mile High Middle School before entering the high school where he admits he was a "nervous" freshman whose way was made somewhat smoother by his older brother, Kolton, a then-senior who is now a junior at Northern Arizona University, where he is studying creative film and visual media.
"High school so far for me has been a great friend and learning experience," Kody said.
From the start, the gregarious young man said he made his goal to be "friendly with everyone" whether they were into sports, music, clubs or academics. Kody plays on both the basketball and baseball teams, but makes time to attend all school activities: band and choral concerts, every dance and all of the special events.
"I have tried to make the most out of high school. High school, for me, has been the greatest time in my life."
As for his plans for the remainder of his senior year, Kody said he just wants to soak it all up because once it's over he does not plan to stay in Prescott.
"This is our last chance to be a kid," Kody said. "We'll never have this opportunity again."
Bradley Stalnaker: Bradley moved to Prescott from Scottsdale when he was entering middle school, and he attended Granite Mountain Middle before it was turned into a fifth- and sixth-grade intermediate school two years ago. In his first two years at the high school, Bradley was involved with the JROTC program, and is plan at this time is to enlist in the military after high school. If that does not work, he said his "Plan B" would be to pursue a career with cars. He is now enrolled in the auto shop program through the Mountain Institute JTED program that offers various career educational programs for all students.
So far, Bradley enjoys the privilege seniors have of leaving school at about noon each day that allows him to work part-time at Safeway.
Confident about his plans for the future, Bradley said he is taking something of a "wait-and-see" attitude about what the senior year will reveal.
Elena Aragon: Born in Phoenix, Elena grew up in Prescott, beginning with kindergarten at Lincoln Elementary and then going to Mile High Middle School before entering high school.
A strong student, Elena said she is "really into my education" and now taking three college classes that are "stressing me out" but she wants to take advantage of all the educational opportunities available to her through the high school program that includes the advanced placements and dual enrollment classes through Yavapai College that earn students college credit.
Throughout her educational career, Elena has had several opportunities to travel, selected in eighth grade to participate in a Washington, D.C. trip that enabled her to tour the nation's capital, as well as visit Virginia, Maryland and West Virginia. Then last year, Elena participated in the high school's academic decathlon and ended up going to Phoenix regionals where she earned third place in science.
With her focus on academics, Elena admits she hasn't always had as much time for extracurriculars as she might have wished and wants to make up for some of that this year.
"I'm hoping to experience a lot of new things," Elena said. "I've not been having as much fun as a teenager should. I've only been to one dance, and one prom, and this year, I want to go to them all."
Kirsten Hillig: Kirsten was born in Tucson, but started her school career in Prescott at Abia Judd Elementary. Hillig has a couple distinctions not shared by her fellow classmates: she has a twin sister, Kara; her grandfather is a school security guard, and her mother, Stephanie, is the principal.
She doesn't seem embarrassed, or concerned, about her family connections, but rather is someone who is eager to seek out whatever opportunities suit her best and enrich her educational experience.
"I do everything," Kirsten said. "I'm a cheerleader; I play basketball and softball; I'm in the band; I'm in the National Honor Society; I'm president of the Fellowship of Christian Athletes; a member of Key Club and the Environmental Club."
Over the summer, Kristen got a jump on college applications, applying to all of the state universities.
"I'm busy, but it's been a ton of fun," Kirsten said.
"It's going to be fun, exciting, scary and stressful, but we'll just have to make the most of it," Kody concluded. "This is our last hoorah."
Related Stories
More like this story
SUBMIT FEEDBACK
Click Below to:
This Week's Circulars
To view money-saving ads...