Chino Valley artists shine on 10th annual Artists Tour
People & Places
Originally Published: September 13, 2017 6:03 a.m.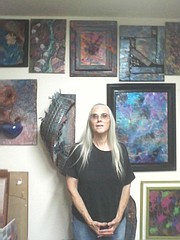 Anyone interested in seeing or purchasing fine art in water colors, pastels, oils and acrylics – in addition to sculpture, photography, ceramics, jewelry, woodworking, textiles etc. – should make sure they attend the 10th annual Prescott Area Artists Studio Tour.
The event will be Friday through Sunday, Oct. 6-8, from 10 a.m. to 4 p.m. each day. There will be 60 artists at 40 studio locations with an additional 38 artists at four art centers in the area.
Several talented Chino Valley artists will be showing their pieces too.
Abstract recycle art
Sheri Oriona is one of them.
"I am an abstract recycle artist. I create my art from old tires, shipping crates, broken glass, rusted metal, wire and tile pieces. I see art in everything I look at," Oriona said.
"Some of my pieces take me from three or four months to complete. At this time I am working on seven different pieces, and I have at least 130 pieces in my studio," said Oriona.
Oriona's art pieces range from $50 to $500, and she will be in studio number 32 on the tour.
"Because I work full time, I don't spend a lot of time promoting my art, but I am obsessed with doing it," she said.
"My art is my reason for existing."
Pottery
Michael Brown is another Chino Valley artist on the tour, and this will be his fourth year participating in the event.
"While attending college and getting my doctorate in Psychology I also took pottery classes because I love it. After I retired from Yavapai College, I can now devote all my time to designing my pottery at my studio Lizard Hill Pottery," Brown said.
"I make functional wear bowls, plates, and mugs, which is all lead free, food safe, and can go into the dishwasher, or microwave. I also make Raku pottery, a form of Japanese pottery which includes vases and wall hangings," he added.
Most of Michael's work is wheel thrown pottery, which he fires, then glazes – and are all made by him.
"When glazing you really don't know what color you will get, so it's either like Christmas or Halloween," he said grinning.
"I love doing this pottery because I'm creating. I think of this as a craft and an art," said Brown.
"It gives me a lot of self-satisfaction to create something that's both functional and beautiful."
Brown will be at studio number 35 on the art tour.
More like this story
SUBMIT FEEDBACK
Click Below to:
This Week's Circulars
To view money-saving ads...