3 wanted for multiple armored truck robberies captured in Vegas
Originally Published: September 12, 2017 6:02 a.m.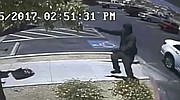 LAS VEGAS — Police and FBI officers have arrested three people in connection with multiple armored truck robberies in the Las Vegas area.
According to Las Vegas Metro Police, the two agencies collaborated to detain the suspects by staking out a Chase bank on Sept. 8.
Local news channel FOX5 captured images of three men and one woman handcuffed and being led into police cars.
Witnesses reported hearing explosions from flag-bang devices followed by dozens of plainclothes and uniformed officers converging on the suspects just after 10 a.m. Friday..
Authorities did not reveal how they knew the suspects would be at the bank that morning, or what they were planning to do. Investigators did confirm that the suspects did not rob the bank. Names of those arrested have not been released.
A bank manager on duty said he had no idea what was going on and received all of his information about the case by watching media coverage.
Anyone with information about this case is asked to call the Las Vegas Metropolitan Police Department at 702-828-3111 or the FBI at (702) 385-1281.
More like this story
SUBMIT FEEDBACK
Click Below to: