Never forget 9/11; volunteers support effort, public pays respect
What it takes to set up the Healing Field

Originally Published: September 11, 2017 6:02 a.m.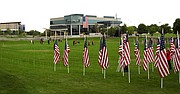 By the numbers
3,019 flags
344 pairs of firefighter boots
72 pairs of police boots
55 pairs of military boots
8 teddy bears
Healing Field schedule of events
• Healing Field flags are on display continuously until 4 p.m. Friday, Sept. 15.
• Remembrance Ceremony, 6 p.m. Monday, Sept. 11, with Honor Guard, bagpipers, guest speaker.
In little more than four hours, 100 volunteers erected 3,019 flags at the Prescott Valley Civic Center — 3,000 to represent the lives lost in the Sept. 11, 2001, terrorist attacks and 19 to honor the 19 Granite Mountain Hotshots who lost their lives fighting the Yarnell Hill Fire in 2013.
Mary Mallory, newly elected to the Prescott Valley town council, was with her husband, Kirk, when they viewed a similar Healing Field in Tempe in 2011.
"She looked at me and I could see it on her face," Kirk Mallory said Friday while helping set up the flags. The two decided right then to bring a Healing Field to northern Arizona.
As in some past years, it rained on and off during the field preparation Friday and during the Blessing of the Field Saturday morning. That did not dampen participation or attendance, Mary Mallory said.
"That flag flies because the people carry it. It will battle many storms, and people will continue to carry that flag and they will show up," she said. "The rains, the clouds, the way the sun, the light comes through, it's such an amazing presence, I can't explain it. You just feel it in your soul. They are here."
The work began on this, the sixth year of the Healing Field of Northern Arizona, at 6 a.m. Friday, when town staff, firefighters and police officers pounded 3,000 individual 3-ft. sections of rebar into the ground. The hollow flagpoles fit over the rebar and stand in precise rows on the field.
"The rebar has to be just right or the flag will fall over, or someone may get hurt," PV Community Relations and Volunteer Coordinator Heidi Dahms-Foster said.
The Parks and Recreation Department staff mows the grass, grids the field, and place dots of paint where each piece of rebar and flag will go.
"We have some regular volunteers; a lot of them have got it down to a relay system as they work in teams," Dahms-Foster said. "Some put the flags on the rebar, some go through and attach the tags."
Each flag has a zip-tied tag with the name, age, and place of death one of the victims. A map is available for those looking for specific individuals.
"So if they ask for a family member or a friend they knew, we can tell them exactly where that person is," she explained.
Viewers may wonder why some flags have a pair of boots at the base. The firefighters who died have firefighter boots; same for the law enforcement officers.
"The boots always face east. I heard it was a firefighter tradition," said Darlene Packard, coordinator of the event.
PV Assistant Town Manager Ryan Judy, attaching tags and boots Friday morning, said he always thought it was because the boots face east to New York, Virginia and Pennsylvania.
Dahms-Foster said she has seen military people saluting the flag that commemorates a person they've come to honor. "It's amazing it happened in New York and Pennsylvania, but it really did affect the entire nation. Everybody knew somebody."
Nine flags have teddy bears. These represent the nine children killed that day.
"The kids that volunteer — it's just kind of intense to see the kids putting up those teddy bears for a child that might have been their age," Dahms-Foster said.
When it comes time to take down the flags on Sept. 15 and pack them away for the year, they must be dry, Packard said. If they are not dry, the flags stay up until the weather cooperates.
"Things have to happen just right for this, and they have a tendency to work out," Dahms-Foster said.
When one hears or reads the number 3,000, it's one thing, Mary Mallory said Saturday, overlooking the Field from the fourth floor of the Civic Center. "But when you drive up to this field and look at it in a display, it moves your soul. It moves you to do better and appreciate your life. What kind of legacy will you leave in this world? This field says, 'Don't think you have tomorrow, because there are no guarantees.'"
Packard said donations are not something the event actively seeks, but a donation jar can be found at the information table, along with brochures and the map. Contributions are used to pay a yearly licensing fee, replacement of flags and cards, and equipment. Community partners also award grants and provide in-kind donations and employee volunteers.
To help out at the information table during the week or take down the flags on Sept. 15, call Darlene Packard at 928-848-0626.
More like this story
SUBMIT FEEDBACK
Click Below to: