Mother and three children from Amber Alert found safe in California
Originally Published: September 11, 2017 11:41 a.m.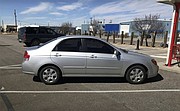 LANCASTER, Calif. — An Amber Alert has been canceled after a mother and three boys were found safe in Los Angeles County.
According to police, Laria Walker-Anderson and her three sons, ages 6, 8 and 9 were located in Lancaster, California around 5 p.m. Sunday night.
New Mexico's Bernalillo County Sheriff's Office issued the Amber Alert reporting that Walker-Anderson had "abducted" the three boys early Sunday morning and was last seen traveling west on Interstate 40 from Albuquerque at 4 a.m. BCSO officials expressed concern that the mother may be armed with a gun and the boys could be in "imminent danger."
The children and mother were reportedly seen later in the day on I-40 near State Route 95 just north of Lake Havasu City, according to Arizona Department of Public Safety. Authorities said Walker-Anderson was possibly headed to a family member's home in Southern California.
Following a tip, police found the reportedly stolen car Walker-Anderson was driving abandoned in La Verne, California.
Walker-Anderson and her three sons turned surrendered to police in Lancaster on Sunday night.
The circumstances of the Amber Alert by BCSO are unclear and may be related to a possible domestic dispute. Walker-Anderson lives with the boys' father. They are not married and she reportedly has legal custody.
More like this story
SUBMIT FEEDBACK
Click Below to: