Prescott's Bradley wins Wherley Invite's boys' race
Behind team No. 1 runner's 17-minute time, Badgers place 2nd
By
Doug Cook
|
dougout_dc
Originally Published: September 10, 2017 6:02 a.m.
Once Matt Bradley learned what was holding him back from greatness, the Prescott cross-country team's No. 1 runner found his true stride.
In the fall of 2016, a year after missing the 2015 season due to injury, Bradley felt physically sluggish and didn't run to his potential. Effort wasn't the problem, though. Something felt wrong. Once a doctor diagnosed him with anemia this past spring, Bradley modified his diet and temporarily took iron supplements over the summer.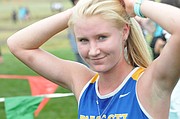 This season, Bradley is all smiles — and the senior feels as energetic and as healthy as ever.
On a pleasant, yet humid and wet morning Saturday in Prescott, the tall-and-lanky Bradley won the 40th annual Ray Wherley Invitational, crossing the finish line in an impressive 17 minutes and 75 hundredths of a second. His time in the 3.1-mile (5K) lead varsity race propelled the Badgers to a second-place team finish behind winner Brophy College Prep of Phoenix. Ten squads placed.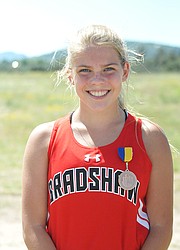 Bradley sliced more than a minute off his time here in 2016, when he didn't finish in the Top 10. On a muddier course Saturday, he hung back behind three Brophy runners to start the race. He eventually passed two of the three. Then, with 800 meters remaining, Bradley, who also runs track, turned on the afterburners.
"I went for it, and it worked out. I had some friends come out to watch, so it's kind of a special one here," Bradley said afterwards. "It's my last race at the home course, so I just wanted to have a good race. I'm feeling really good this season. My training's been good."
Prescott senior teammate Garrett Ward said Bradley's "progressed really well."
"His training is unbelievable," Ward added. "He could go more than 50 miles each and every week, and he just pushes."
Brophy's Drew Burns placed second in 17:08:03. Bradshaw Mountain's Kaleeb Foster finished seventh in 19:16.73 on the hilly course in 65-degree weather at Embry-Riddle Aeronautical University.
"The last 300 to 400 meters is probably the worst part," said a winded Foster, who shaved some 2 minutes off his 2016 time here. "I tried to look at the back of his [Bradley's] jersey, and I tried to catch him, but my legs couldn't keep up. I've got to train more."
Bradley's victory on Saturday represented his second consecutive meet win in seven days. On Sept. 2, Bradley won the grueling varsity Summit race at the prestigious annual Peaks Invitational in Flagstaff.
Prescott coach Cylinda Bray said Bradley's coming into his own, particularly now that he's healthy.
"He's been looking stronger and stronger over the past couple years – it's definitely been a build-up," Bray said. "Now that his [iron] levels are more balanced and his food is more balanced, we're seeing the results. His determination is definitely there."
GIRLS
Boulder Creek's Hanna Smith won the 3.1-mile lead varsity girls' race in 21:03.69, but Prescott sophomore phenom Makenna Bray wasn't far behind, placing second in 21:09.34. Boulder Creek of Anthem won the team title and Lee Williams of Kingman claimed runner-up. Prescott snared fourth.
"Makenna's a very talented runner – we've always seen that," coach Bray said of her daughter. "She ran a minute and a half faster than last year [here]. I'm pleased with the progress in that she pushed herself the way she did."
Bradshaw Mountain star junior Anna Maria Zea, who said she felt fatigued, finished sixth in 22:48.34 — her fastest time of the young season.
"Sometimes you just have an off day," said Bears coach Mike Simon of Zea, adding that she performed better at the Peaks Invitational. "It's not like it was a bad race. She'll bounce back."
Makenna said she "was kinda hoping to win," but that she didn't possess enough energy toward the end of the race to do so.
"It was fair game for both of us," Makenna added about her showdown with Smith.
Smith led through the first lap around the course. Makenna passed Smith in the second lap until they reached the steep downhill portion with about a half-mile to go.
"Coming down the hill, she just had a great kick and kept it rolling until the finish," Makenna said.
Makenna added that she's in "pretty good shape," but "still has room to work" this fall.
"It's been better than I was last year, so I'm happy with that," she said.
UP NEXT
Prescott will take this week off before returning to competition at the annual Doug Conley Invite, a 3-mile race, Saturday, Sept. 23. Shalimar Country Club in Tempe hosts the meet, which begins at 7:30 a.m.
Bradshaw Mountain visits Sunnyslope at 5 p.m. Wednesday, Sept. 13, at a hilly-and-rocky Duck Park in Phoenix.
More like this story
SUBMIT FEEDBACK
Click Below to:
This Week's Circulars
To view money-saving ads...