At 77, Prescott woman is still taking the dive

By
Nanci Hutson
|
HutsonNanci
Originally Published: September 10, 2017 6 a.m.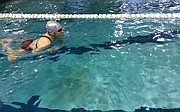 It's 6:15 a.m. on a Tuesday.
The sun has barely peeked through the clouds and Gaile Harden has been stretching her petite frame with graceful, precise strokes in the far left lane of the Prescott YMCA pool for the last half hour, part of a two-day-a-week rhythmic and rapid routine sure to mesmerize anyone who might stop to watch.
At 77, Gaile is a champion swimmer, a multi-medalist in the breast stroke, the back stroke and free-style, whose prowess in the water did not begin in childhood. She didn't start swimming, or learning strokes, until after she suffered a serious back injury at age 54. Her daughter, Shari, a competitive swimmer from childhood, recommended the sport as a therapy that quickly turned into a passion. Her son, Barry, is also a swimmer.
"I thought I'd spend my retirement on a golf course. Little did I know I'd be up at the crack of dawn swimming laps," said the former real estate business owner from Littleton, Colorado, who moved to Prescott 19 years ago.
From when she first started competitive swimming, Gaile said she could not image anything she would rather do. She said her husband of 60 years, Paul, a senior basketball player, jokes with her that even when they are away on a vacation she ends up teaching somebody how to swim.
"If I see a kid in the water who doesn't know how to swim, they do by the time I leave," she declared.
Now self-coached, the United States Master Swim Team competitor said when she started to swim at meets as far away as Fort Lauderdale, Fla. her husband was her coach; now his role is consummate cheerleader and companion Scrabble player.
"I started out with small goals and worked my way up," Gaile said following her more than an hour morning training session for the Nevada State Senior Swim Championships in October that will be followed a week later with participation in the Huntsman World Senior Games in St. George, Utah.
In April, Gaile competed in the USMS National Spring Championship in Riverside, Calif., and though she performed well she did so in events that are not her best strokes: she won a 4th place in the 500-yard freestyle, a fifth-place in the 100-yard breast stroke and a sixth-place in the 100-yard freestyle. She counts her top stroke as the 200-yard breaststroke; for the last two years she has made it in the USMS top 10 out of some 65,000 senior swimmers.
In the most recent competition, Gaile said she was most proud to earn a second place medal in the 200-yard relay as she knew she was the slower of the team's other two other guys and a girl from Arizona – these were competitions for adults 18 and older.
Gaile has a jacket full of patches and a house full of medals from all of her competitions dating back to the very first year she discovered the sport she is clear is suitable for anyone at any age.
"She's a trooper. She's here all the time," said YMCA membership staff member Donna Defibaugh. "I didn't realize (until recently) how old she is, and all she's done."
YMCA lifeguard Robert Taintor said he sees many younger people come to the pool "who can't do what she does."
"She's pretty strong, and just keeps going at it," he said.
Five years ago, Gaile suffered a setback when arthritis required she undergo a half left shoulder replacement. On her first day back in the pool, she remembers she couldn't make it from one end to the other. Then six months later, she broke her wrist. A year later, she was competing again.
Fellow lifeguard and competitive senior swimmer Duncan Wilmore, a Vietnam veteran, said Gaile is always training for the next race.
"She works her butt off," Wilmore said. "She's remarkable."
Gaile said she hopes she is an inspiration to other seniors, as well as the younger generation. She is a believer that dreams come true when one is willing to do what must be done to achieve that dream – and she suggests that is something that applies to people of all genders and ages.
"You don't stop playing because you get old, you get old because you stop playing," Gaile concluded.
More like this story
SUBMIT FEEDBACK
Click Below to: