NAZ Suns begin year 2 in Prescott Valley, host local tryout
48 players participate in Saturday's tryout at PVEC

Originally Published: September 9, 2017 6:14 p.m.
Updated as of Sunday, September 10, 2017 6:03 AM
https://soundcloud.com/sportswriter52/assistant-gm-louis-lehman-talks-about-saturdays-naz-suns-tryout
https://soundcloud.com/sportswriter52/ty-ellis-shares-his-take-from-saturdays-naz-suns-local-tryout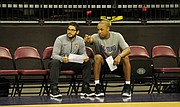 The Northern Arizona Suns conducted their first local tryout Saturday for the upcoming 2017-2018 season, putting 48 NBA Gatorade League hopefuls through a series of drills and scrimmages during morning and afternoon sessions.
Players from Arizona, Nevada, Texas, Tennessee, Florida and as far east as New York made the trip to Prescott Valley in attempt to impress the Suns front office and coaching staff in hopes of earning a roster spot.
The names of the players are kept confidential during the local tryout period, and were not released to the media Saturday.
Tyrone Ellis, entering his second season as head coach of the Suns, mainly oversaw the six-hour tryout evaluating talent. For a hands-on coach like Ellis, that can be difficult, he said.
"It's very hard, because I want to help. … I understand this isn't a practice, we're on a time constraint, so I have to be short and sweet, or catch them on the sideline," Ellis said. "But I want to stop it, and get on it so bad."
Ellis said compared to last season's tryouts, the talent pool is pretty similar, but he saw players with an "expectation of a fair opportunity" on Saturday.
"Guys were tuned in, guys were locked in and they competed. They were so coachable, and they wanted to do exactly what we said, and some of them forgot to play basketball," Ellis said, adding he had to remind a few of them to "trust" their instincts.
"We give you direction, but we can't talk about every little thing. Trust what you've been doing all of your life, It was a really good turnout, guys competed, and I'm very proud of our job."
Ellis, a former G League player and assistant coach for the Bakersfield Jam before the franchise was purchased by the Phoenix Suns and moved to Prescott Valley, spent his summer as an assistant coach for USA Basketball's men's national team, which competed in the FIBA AmeriCup.
USA toppled Argentina 81-76 in the championship Sept. 4 to claim gold.
As for assistant general manager Louis Lehman's take on Saturday, he said overall, "we had a really strong group of guys."
"I think there's more depth, especially all the way down to 48, in this year's tryout compared to last year," Lehman said, adding he agreed with Ellis' assessment of Saturday's group being "coachable."
"I think it's rare in this type of setting. Guys want to come up here and show their individual skill set, what they've done in the past," Lehman said. "The guys that were out there today listened to [the coaches], made adjustments on the fly and overall, they were really pleased with what they saw."
A year ago, four players were invited to training camp including Josh Gray, Langston Morris-Walker, Assad Woods and former Grand Canyon standout Daniel Alexander. Both Gray, a 6-foot-1 guard from LSU, and Woods, were still on the roster to end the season.
"What we're really looking for is the best fit for us. We don't know exactly who is coming back from the team last year, but with the guys that are out here, we're looking for guys that can fill a role," Lehman said.
Last season, the Suns began their inaugural campaign in Prescott Valley with an impressive 10-1 record, but missed the G League playoffs after finishing 22-28 overall.
UP NEXT
Northern Arizona will host its second local tryout Saturday, Sept. 16, in Scottsdale, beginning at 9 a.m. at the Victorium.
The Suns will likely wait until the Oct. 4 deadline before revealing what four players they've chosen to invite to training camp.
Brian M. Bergner Jr. is associate sports editor and a columnist for The Daily Courier. Follow him on Twitter, Instagram and SoundCloud at @SportsWriter52, or on Facebook at @SportsAboveTheFold. Reach him at bbergner@prescottaz.com or 928-445-3333, ext. 1106.
NBA Gatorade League Important Dates
Date Description
Sept. 16 Northern Arizona Suns' second local tryout in Scottsdale, 9 a.m.
Oct. 1 Local tryout period ends for league clubs
Oct. 4 Teams select four players from local tryouts for invitation to training camp
Oct. 11 Local tryout players selected for training camp roster spot must sign
Oct. 11 Four additional players can be offered by clubs for NBA G League Draft
Oct. 16 Returning rights players must sign to be eligible for training camp
Oct. 17 League distributes list of draft-eligible players to teams
Oct. 20 Teams required to submit training camp roster, minus draftees
Oct. 21 2017 NBA G League Draft
Oct. 23 Training camp begins for all teams
Nov. 3 2017-2018 season officially begins
Nov. 4 HOME OPENER: Agua Caliente at Northern Arizona Suns, 7 p.m.
Northern Arizona Suns Roster Status
Name Position Year Status
Gracin Bakumanya, Center, 2nd, Selected by Wisconsin Herd in expansion draft
Askia Booker, Guard, 3rd, Undecided*
Michael Bryson, Forward, 2nd, Undecided*
Derek Cooke Jr., Forward, 3rd, Signed with Perth Wildcats, Australia
Alex Davis, Forward, 2nd, Signed with BC Beroe Star Zagora, Bulgaria
Josh Gray, Guard, 2nd, Undecided*
Shaquille Harrison, Guard, 2nd, Undecided*
Joe Jackson, Guard, 2nd, Rights relinquished by NAZ Suns
Xavier Silas, Forward, 5th, Undecided*
Asaad Woods, Forward, 2nd, Undecided*
Elijah Millsap, Guard, 6th, Under NBA contract with Phoenix Suns
Derrick Jones Jr., Forward, 2nd, Under NBA contract with Phoenix Suns
EDITOR'S NOTE: Above players ended the 2016-2017 season on Northern Arizona Suns roster. All returning rights players (*) have until Oct. 16 to sign for training camp eligibility.
More like this story
SUBMIT FEEDBACK
Click Below to: