Originally Published: September 8, 2017 11:30 p.m.
Updated as of Saturday, September 9, 2017 6:05 AM
Ryan Greene ran for over 250 yards and three touchdowns, but Sam Giordan's sack and fumble recovery late in the fourth quarter was the difference for the Prescott football team in a 35-25 victory over Cactus Shadows on Friday night.
It is the second straight road victory for the Badgers, which lost to this same Falcons squad in Prescott 23-3 a year ago.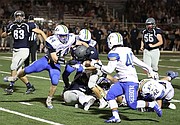 Up 28-25 with just over five minutes to play, Falcons quarterback Andrew Young rolled out of the pocket, but Giordan put a big hit on the 6-foot, 180-pound senior, jarring the ball loose.
The 5-foot-9 sophomore linebacker then out-hustled Young to the wiggling pigskin, recovering the fumble and setting up first and 10 from Cactus Shadows' 28-yard line.
On the ensuing play, Prescott quarterback Austin Clark found wide receiver John Chauffer streaking down the sideline for a 28-yard touchdown strike, putting the Badgers up 35-25 with 4:42 to go in the game and Falcons never recovered.
With starting senior linebacker Rodney Pitts out with a broken thumb, Prescott head coach Michael Gilpin turned to Giordan to fill in.
"We threw him out there, he hasn't even been practicing defense, he's just an outstanding athlete," Gilpin said in a phone interview after the game.
Greene said he's never even seen Giordan play defense before.
"I've never felt so proud of that kid. That play, that ended the game right there," Greene said.
Giordan recalled how much "adrenaline" was flowing through his body during the play.
"I had to react so quick. It was a bad snap, and the quarterback couldn't get his hands on it and I just bull-rushed him," Giordan said, adding he's still in a bit of shock on Gilpin's call to throw him in on defense.
"I don't play defense. I'm a running back," Giordan said with a laugh.
Gilpin said Friday night's win was one of the biggest for him as head coach for the Badgers.
"Cactus Shadows is an outstanding program top to bottom, a perennial playoff team," Gilpin said. "At some point, if we want to take a big step to be a big playoff team, you have to beat one."
Prescott (2-1, 0-0 4A Grand Canyon) was 0-4 against teams that made the playoffs last season.
"We wanted to turn that around this year," Gilpin said.
The Badgers came out with a little different look offensively in Cave Creek, using the "Wildcat" formation with Greene at the center of attention.
The senior tailback put Prescott on the board with a 44-yard touchdown run at the 10:01 mark in the first quarter, than made it 14-7 with a 15-yard run with 3:06 to play in the period.
Greene capped off an impressive 21-point offensive outburst by the Badgers with an 85-yard touchdown pass to Jesus Mata.
His third rushing touchdown of the night came on Prescott's first play from scrimmage to open the second half, running 80 yards for the score to make it 28-14.
"We felt we'd have double tight ends, seven blockers. And with Ryan Greene? We felt our seven blockers would be better than their seven defenders," Gilpin said.
UP NEXT
Prescott returns home from its two-game road trip next week to host Moon Valley (2-1, 0-0 4A West Valley) on Friday, Sept. 15.
The Badgers hosted the Rockets last season in a 32-29 win.
Kickoff in Prescott next week is set for 7 p.m.
Brian M. Bergner Jr. is associate sports editor and a columnist for The Daily Courier. Follow him on Twitter, Instagram and SoundCloud at @SportsWriter52, or on Facebook at @SportsAboveTheFold. Reach him at bbergner@prescottaz.com or 928-445-3333, ext. 1106.