Tiffani Fortney wins 2017 Prescott Idol

Originally Published: September 7, 2017 9:12 p.m.
Photo Gallery
2017 Prescott Idol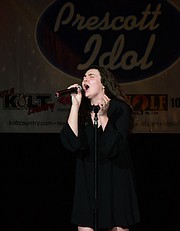 Choosing to sing "Amazing Grace" as her victory song, Tiffani Fortney dedicated it to her best friend and her mother.
"I don't ever sing without thinking of them," Fortney said Wednesday night, noting that the two of them were everything with her singing.
The 2017 Prescott Idol winner, Fortney sang Jennifer Hudson's "And I'm Telling You." She chose it out of a desire to do it better than she did last year, Fortney said. Back then, she didn't do it the best she could so she wanted to do it better, she said.
Lore Christensen earned second place with her rendition of "Let it Go" from the Disney film "Frozen." Though there was some nervousness as she took the stage, Christensen said she worked through it by concentrating on the words. The song also has a lot of meaning in her life, she said.
"I've had a lot of loss in my life recently," Christensen said. "For me to sing that song was really important. Just to let it go."
Some of the song's lyrics became a little more real that night as well, Christensen said, mentioning that some of her family were evacuating Miami before Hurricane Irma hit Florida. She called the lyrics "the wind is howling like this swirling storm inside" to attention.
Earning third place was Nicolette Stefanic singing Jessie J's "Price Tag." The three of them were up against 20 others, one of whom was Aubrey Castleberry, who said it felt great to be at the finale after getting to sing the week before and continue to ride the high she was on.
At the same time though, Castleberry said she was nervous in the time leading up to her song, "Part of Your World," from the Disney film "The Little Mermaid." It was good that she could still get nervous though, she said.
"It's good that I'm in a space with people who sing so wonderfully that I'm nervous for how I'm going to perform," Castleberry said. "I'm so excited to be here too, so it's kind of that nervous energy bouncing around."
Like Fortney, it was her second year at the Prescott Idol finale, she said, stating that after wanting to be in Prescott Idol ever since she moved to the area three years ago, it was all for the fun of it.
Looking ahead, Fortney said the next step for her was just going back to work the next day. Though, there is the possibility of being a judge at next year's Prescott Idol, she said.
More like this story
SUBMIT FEEDBACK
Click Below to:
This Week's Circulars
To view money-saving ads...