Slowhand tribute comes to the Elks
Originally Published: September 7, 2017 8:57 p.m.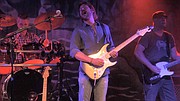 Essentials
Where: Elks Theatre, 117 E. Gurley St.
When: Saturday, Sept. 9, at 7 p.m.
Tickets: $22-$25
Call: 928-777-1370
Online: PrescottElksTheater.com
Not much needs to be said to introduce the music of Eric Clapton, known for decades as one of the best guitarists in the world.
There is a story behind Clapton's well-known nickname, "Slowhand," and it's probably not what you think.
When he was a member of The Yardbirds in 1964, Clapton routinely used very light guitar strings so he could play faster.
This resulted in many broken strings, and since he had to stop and fix them each time, the audiences would start to give him a slow clap.
The British version of that phrase is to be "given the slowhand."
The Yardbirds' manager, Giorgio Gomelsky, combined the irony of the slow clap with the fact that Clapton could play with lightning speed, to nickname him "Slowhand."
Guitarist and vocalist Tom Rubino brings his Eric Clapton tribute show, "EC and Friends: The Clapton Experience," to the Elks Theatre on Saturday, Sept. 9.
Rubino, who even looks like Clapton of the '70s, has been a fan since he was a teenager.
"I'm not a young guy, but I'm playing a younger Eric Clapton," he said, adding that he's been studying the man for more than 40 years.
He has worked to master some of Clapton's best-known solos and to learn his vocal style.
Rubino performs "note-for-note" renditions of the songs, whether they be from albums or live concert recordings.
The Phoenix-based show includes a six-piece live band for an even more authentic experience.

Audiences are surprised to find that Rubino's doing an Eric Clapton tribute show, because "he's a legend, and hard to pull off," he said. "And I'll be the first to say, I'm no Eric Clapton, but at the same time, I think the show we put on will be reminiscent of an Eric Clapton concert."
More like this story
SUBMIT FEEDBACK
Click Below to:
This Week's Circulars
To view money-saving ads...