Column: Urban or rural trail, take this one to the summit
'Hiking Arizona'

Originally Published: September 7, 2017 6:02 a.m.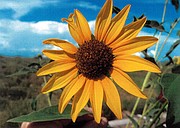 Confession is good for the soul. As a hiker, I try to start off on the right foot.

I have used the Glassford Hill Summit Trail many times, but never as a hiker, always as a biker. So, for the sake of this column, I thought I should hike the trail, which I did last month.

There was a brief thundershower earlier and additional storms threatened. I thought there would be other hikers on the trail, but no one was there.

Hiking in stormy weather increases the risk, hence the sense of adventure, within reason, of course. Unfortunately, most people — most of the time — stay off the trail when the weather is foul. This is understandable and easy to do in Arizona, since we have lots of clear weather.

If you want to wait for better conditions, chances are, you won't have to wait long. This particular trail is quite open with expansive views, since it is a grassland trail. There are a few shrubs and small trees scattered about, but high visibility is the norm.

In stormy conditions, don't expect to find much shelter, other than an isolated rock outcrop. It is the cone of a volcano, after all. Views extend to the San Francisco Peaks on clear days.
The Glassford Hill Summit Trail is an urban trail, according to Larry Tarkowski, town manager of Prescott Valley. That came as a surprise to me, since we live in a rural area.

I have hiked the urban trails around Phoenix, but viewed the trails here differently. Mr. Tarkowski's point about this being an urban trail influenced its design, much wider than a typical hiking trail.

One reason for this is safety. Rescue personnel have a much easier time reaching a hiker or biker when they can drive right to them. Additionally, being wider, maintenance is expected to cost much less.
Since I am somewhat of a wilderness purist, I have generally preferred to bike this trail, because it's really a road and I see bikes as a better match when traveling down a road. Yet, it turned out that Mr. Tarkowski was right. It is looking more like a trail now than when it was built in 2016. He estimates that the cost of construction was about $80,000. Purchasing the land was about the same. Much of these costs were covered by a generous donation from North Central University ($120,000).
This trail is suitable for hiking or biking and these two users don't always mix. It's a great trail for a workout, two miles to the top with nearly 1,000 feet of elevation gain. So, expect to encounter hikers, kids, runners, bikers, and dogs of all ages and abilities.

There's plenty of room to hike side-by-side as well as pass by someone with relative ease. However, that doesn't mean you can tune out your surroundings. Pay attention, especially for the sound of a biker or runner coming up behind you. Sometimes they approach at a high rate of speed.
This is a great trail for all seasons. Parking is adequate. I did not see the Port-a-potty last month, but there has been one since the trail opened. Remember, there's not much cover along the way, so be prepared.

There is a picnic table at each switchback. Right now there's plenty of flora and fauna to enjoy too.

I've seen pronghorn near the summit along with lots of little critters along the way: snakes, birds, and butterflies. There are several displays too, explaining the natural history as well as the use of heliograph mirrors on the summit.
Ted Johnson is a columnist for The Daily Courier. Reach him by email at sportsdesk@prescottaz.com.
More like this story
SUBMIT FEEDBACK
Click Below to:
This Week's Circulars
To view money-saving ads...