Chino Valley Cross Country team raises annual funds
19th annual 10k & 2 Mile Run/Walk
Originally Published: September 6, 2017 6 a.m.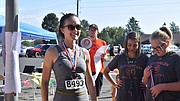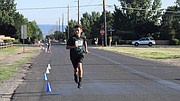 Photo Gallery
Chino Valley Territorial Days 2017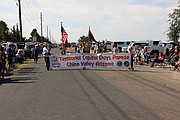 Territorial Days in Chino Valley on Saturday, Sept. 2, consisted of the 31st annual parade – including 40 entries; the annual pancake breakfast served up by the Chino Valley Lions Club; a kids entertainment section, courtesy of the town; the 10K & 2 Mile Run; and an arts and crafts show hosted by the Chino Valley Lioness Club.
Soon after Territorial Days kicked off for day two of celebrations in Chino Valley on Saturday, Sept. 2, with a pancake breakfast hosted by the town's Lions Club, runners in the 19th annual 10k & 2 Mile Run/Walk took their mark on the opposite side of Memory Park.
Proceeds from the runs directly benefit the Chino Valley High School cross country team.
"We know what a wonderful thing running is and we want to keep young people excited about it," said Kathy Dahl, one of the runners in the 10k.
Almost 100 people registered for the runs.
While not directly associated with Territorial Days, the runs have always taken place on the same weekend at the same park.
"The timing works out so it doesn't conflict with the parade or anything like that," said Marc Metz, coach for the boys cross country team.
Some of the money raised will go toward purchasing team shirts, but the bulk will allow the team to go on its annual trip to California.
"We go during fall break to race and enjoy an amusement park," Metz said. "That's kind of our big thing every year."
This year's team is one of the largest the school has ever had, with 32 runners signed up. It's also one of the strongest.
"It's probably our best guys team in at least the last 10 years," said Jenda Ballard, coach for the girls cross country team.
The girls team made it to the state running meet last year.
"We're hoping that they'll both make it this year," Ballard said.
More like this story
SUBMIT FEEDBACK
Click Below to: