Originally Published: September 6, 2017 6:02 a.m.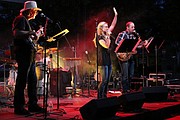 With all the division, turmoil, and hurting going on in the world today, having an uplifting event in your community is a great way to bring people together.
That is exactly what Pastor Guy Deckard of Grace Baptist Church had the idea to do.
"Last year during my sabbatical, I was traveling and I felt the Lord was giving me a vision of what he wanted me to do.
"I thought this was too big of a project, but I said, 'Lord, if this is what you want, you'll open the door,' and He did," Deckard said.
"The Praise in the Park free event was started because we wanted to get all the churches in the community from all walks of life to come together, to worship together as one voice and one church," he added.
Four churches in Chino Valley are sponsoring it, (Grace Baptist, Word of Life, First Southern Baptist, and United Methodist) and seven other churches are planning on being there too.
"Last year our theme was 'Hope', this year the theme is 'Coming Home.' There will be three bands, and one a cappella group entertaining, all the pastors of the churches will also each have a part on stage, plus there will be concession stands run by the youth groups selling hot dogs, snow cones, chips, drinks, and cotton candy. We are also asking everyone to bring one or two cans of food that we are collecting for the Chino Valley Food Bank," Deckard said.
"Praise in the Park" is scheduled for 6:30 to 8:30 p.m., Saturday, Sept. 16 at Memory Park (off of Road 1 West).
Bring lawn chairs and enjoy the music under the stars.
"Last year our attendance was approximately 300, we are hoping for even more this year," Deckard said.
"This event brings me a lot of joy. To see people standing and worshipping God together from all the small churches in our community, is very encouraging."
More like this story
SUBMIT FEEDBACK
Click Below to:
This Week's Circulars
To view money-saving ads...