Officials postpone Yavapai-Phoenix match due to lightning
Rivals to restart game at a later date, time yet to be announced
By
Doug Cook
|
dougout_dc
Originally Published: September 5, 2017 11:40 p.m.
Photo Gallery
YC vs Phoenix Soccer 090517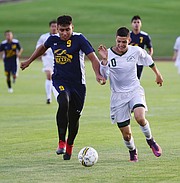 With Yavapai College leading Phoenix College 1-0 inside of 32 minutes left in regulation Tuesday night, the highly anticipated match between the two NJCAA Division I Top 10-ranked men's soccer teams was ultimately postponed due to lightning.
The match will be rescheduled at a date and time to be determined, and the match will start over again per league rules, Yavapai College athletic director Brad Clifford said.
Officials suspended play in the 59th minute, at around 7:15 p.m., when lightening was spotted within six miles of Mountain Valley Park Amphitheater in Prescott Valley. From 7:15 to 8:35 p.m., players and coaches waited in their vehicles in hopes that the severe weather would pass. Instead, lightning and rain persisted.
"Per NJCAA rules, if lightning is within 6 miles, the field must be cleared and there must be 30 consecutive minutes without a lightning strike within 6 miles," Clifford added in an email. "Additionally, the match must be played within three hours of starting time [6 p.m.]. Since the lightning was within 3 miles at 8:30 p.m., the time would expire."
In a key ACCAC showdown, No. 8-ranked Yavapai had looked to get an early leg up on No. 7-ranked Phoenix College atop the conference standings.
Yavapai (4-0-1, 3-0-1 ACCAC) entered Tuesday unbeaten in league play and in second place with 10 points, while Phoenix (4-0-0, 4-0-0 ACCAC) stood alone in first place with 12 points. The Roughriders were only a few days removed from a grueling match, tying Pima Community College, 1-1, in double overtime Sept. 1 in Tucson.
Last October, the Bears upset the Roughriders, 3-0, in the 2016 NJCAA Region I Division I semifinals at Ken Lindley Field. After the regional final, the NJCAA ruled finalists Phoenix and Pima ineligible for the rest of the postseason due to unsportsmanlike conduct in the title match. As a result, the NJCAA handed the Roughriders, the ACCAC's regular-season champion, the West District Playoff spot for Region I.
During the 2016 regular season, Yavapai swept Phoenix, 1-0 and 2-0.
UP NEXT
Yavapai continues on in league play when it visits South Mountain Community College at 3:30 p.m. Thursday in Phoenix. Phoenix College plays host to Scottsdale CC at 7 p.m. Thursday.
Follow Doug Cook on Twitter @dougout_dc. Reach him at 928-445-3333 ext. 2039, or via email at dcook@prescottaz.com.
More like this story
SUBMIT FEEDBACK
Click Below to:
This Week's Circulars
To view money-saving ads...