Emergency? Code Red alerts keep us informed
Originally Published: September 5, 2017 6:03 a.m.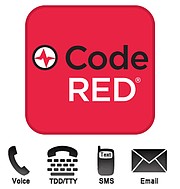 In times of major natural disasters, such as Hurricane Harvey or even wildfires like the Goodwin Fire, authorities need to reach many residents as quickly as possible to notify them of events such as evacuations.
The Yavapai County Sheriff's Office uses Code Red as its Emergency Notification System.
With this service, YCSO has alerted people dozens of times since 2014, as has the Prescott Police Department, to various emergencies and a missing woman.
The message sent in that instance was: "The Prescott Police Department is looking for assistance in locating (victim's name), an 83-year-old female with dementia. She wandered away from Mountain View Manor two to four hours ago. She goes by (name). She is about 5-feet, 2-inches, 130 pounds, and is wearing a white long sleeve shirt with a flower pattern and black pants. If you have any information related to this female, contact the Prescott Police…"
Last year, Sheriff Scott Mascher even used it to send a message to residents about a scam that was affecting many people. Code Red allows the YCSO to call, text, or email residents of a selected geographical area. That meant landline phones and cell phones belonging to residents near the Goodwin Fire were alerted to evacuation plans, while Williamson Valley residents were not.
"The Code Red Emergency Notification System has been an extremely effective tool for YCSO and many of its law enforcement partners," YCSO spokesman Dwight D'Evelyn said. "This became evident during the recent Goodwin Fire as Code Red provided an opportunity for to get those who were potentially in harm's way, the advanced notice to 'Get Ready,' 'Get Set,' or 'Go.' Use of the Code Red mobile application was also beneficial as it allowed location based alerts to those using their mobile devices in the affected area.
"YCSO has also used Code Red in cases of flood, as in the Mayer/Spring Valley event a few weeks ago, and incidents of critical missing adults and children. There is no doubt this important tool can and has saved lives," D'Evelyn said.
The system is advanced: It will try alternate methods of contacting users if they don't answer. But it works best when it has users' most accurate information. So, while the system is updated twice a year with landline phone numbers, the sheriff's office needs residents to go to the website and enter current landline numbers, mobile phone numbers and email addresses.
The system can leave a message on voicemail or an answering machine. It can also be told to try another number or an email if it doesn't get you on the line.
By signing up or opting-in, you may enter alternate phone numbers or modes of contact. You may also specify your primary contact mode. The opt-in process will require that you have a valid email address. A confirmation email or text message will be sent upon completion of registration. Once registered, you may opt-out at any time.
To participate in Code Red, visit this link or go to the Sheriff's Office website: www.ycsoaz.gov and click on the Emergency Notification System tab or the Code Red link on the home page.
---
---
Editor's note: Residents might also consider following YCSO on Twitter (https://twitter.com/YavapaiSheriff) and/or Facebook (https://www.facebook.com/YavapaiCountySheriff/). Not only do these social media pages provide general information of community interest, but YCSO also shares Code Red alerts on these sites when an incident involves large community emergencies like fires and flood.
More like this story
SUBMIT FEEDBACK
Click Below to: