Lt. Andrew W. Collison graduates Marine Corps Fleet Readiness Squadron
Originally Published: September 3, 2017 6 a.m.
Updated as of Monday, September 4, 2017 6:32 AM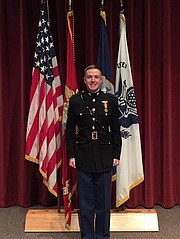 First Lt. Andrew Wade Collison has graduated from the Marine Corps Fleet Readiness Squadron at Camp Pendleton, Calif., August 2017. He will join Marine Light Attack Squadron 367 in Kaneohe Bay, Oahu, HI. He flies the UH-1Y Huey, a light gunship helicopter with troop transport capability.
Andrew is the son of Dr. Wade and Lori Collison B.S.N. of Prescott, Arizona. He is a 2009 graduate of P.H.S. and a 2013 graduate of A.S.U. with a degree in Mechanical Engineering. His Marine training has included O.C.S. Officer Candidate School, O.T.S., and The Basic School in Quantico, Va. His flight training included Naval Base in Corpus Christi (T-6), Pensacola Naval Air Station and Whiting Field, Milton, Fla. where he received his Marine Aviator Wings in Dec. 2016.
Drew became interested in military aviation in middle school, was a Civil Air Patrol Cadet at Love Field, and attended flight ground school at Yavapai College at age 14. Lt. Collison was later mentored by Sgt. M. Considine USMC and Maj. J. Bender USAF in Prescott.
More like this story
SUBMIT FEEDBACK
Click Below to: