Prep Football: Badgers trounce Combs, 49-6
Greene runs for 201 yards, 2 TDs in rebound win

Originally Published: September 2, 2017 6:03 a.m.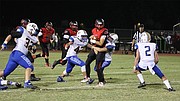 Ryan Greene ran for 201 yards and scored two touchdowns, John Chaffeur had a Pick-6 in the fourth quarter and the Prescott football team recovered from a disappointing Week 1 loss to rout Combs 49-6 on Friday night.
Greene recorded 106 of his 200-plus yards on just two plays in the third quarter, the first a 43-yard touchdown run down the left sideline, making it 28-6 Badgers with 9:53 to play in the period.
Touchdown No. 2 came on Prescott's next possession, a 63-yard run to put the Badgers up 35-6 with 6:52 to go in the third quarter.
"Our coaches in the booth, they were checking out their defense, it was easy to read them," Greene said. "I couldn't have done anything without my offensive line, they gave us great holes to run through."
Prescott (1-1, 0-0 4A Grand Canyon) opened Friday night's contest with a mistake offensively as junior quarterback Austin Clark misread a slant rout and threw the ball into the waiting arms of Coyotes defensive back Nicholas Howland, who returned it 90 yards for a touchdown.
"We had a play, and in one situation, we throw it one way, and in another situation we throw it the other way," second-year Prescott head coach Michael Gilpin said. "They gave us a look, and we threw the wrong way."
The Pick-6 gave Combs (0-2, 0-0 4A Black Canyon) a 6-0 lead, which they held until Prescott backup tailback Sam Giordan scored on a 4-yard run to give the Badgers a 7-6 lead only 6 seconds into the second quarter.
Giordan's score sparked a 21-point offensive outburst by Prescott, a welcomed scoring barrage after the Badgers struggled in 15-14 loss to Marcos de Niza a week ago.
Later in the second quarter, Clark found daylight on a 3-yard touchdown run to cap a 62-yard drive by Prescott, then Clark found junior wide receiver Giovanni Ruiz on a 15-yard touchdown pass to put the Badgers up 21-6 with 20 seconds left before halftime and Combs never recovered.
Defensively, the Badgers recorded three sacks, recovered two fumbles and had the Pick-6 by Chaffeur, who said his defense played "well."
"I got his tendencies down, based on film, and read his eyes pre-snap," Chaffeur said about the play he made against Combs quarterback Junior Loggins. "It was a screen they had been running all night, so I picked it off and housed it."
Gilpin said he was impressed with his team Friday night.
"They just came out and really wanted to make a statement that we were better than last week," Gilpin said.
UP NEXT
Prescott continues its road swing next week as they'll travel south to Cave Creek and play Cactus Shadows (2-0, 0-0 4A Skyline) on Friday, Sept. 8. The Badgers play four of their first six games on the road this season.
Cactus Shadows beat Mingus in Cottonwood on Friday night, 21-20, after Marauders' quarterback Antonie Zabala fumbled on the 1-yard line with 12 seconds to go in the game.
Kickoff is set for 7 p.m.
Brian M. Bergner Jr. is associate sports editor and a columnist for The Daily Courier. Follow him on Twitter, Instagram and SoundCloud at @SportsWriter52, or on Facebook at @SportsAboveTheFold. Reach him at bbergner@prescottaz.com or 928-445-3333, ext. 1106.
More like this story
SUBMIT FEEDBACK
Click Below to: