Prep Football: Cougars come back, beat Scorpions 28-27
By
Kevin Hutson
|
KevinHutson
Originally Published: September 2, 2017 6:05 a.m.
Photo Gallery
CVHS vs Sedona Football 090117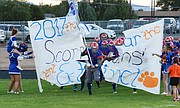 It all came down to a soccer player Friday night for the Chino Valley football team.
Matt Rios kicked a 42-yard field goal with 57 seconds remaining to give the Cougars a thrilling 28-27 win over Sedona on Friday night.
Rios, a senior, is playing his first year of football.
"I've been begging our soccer coach for years to try and get a soccer player to come out and kick for us," Chino Valley head coach Wade Krug said. "Matt's done a great job for us."
Krug had so much confidence in Rios that he had the Cougars try to draw Sedona offside on fourth down and five at the Sedona 21 with just over 1 minute remaining. The strategy didn't work, turning what would have been a 37-yard field goal into a 42-yard attempt.
Krug wasn't worried.
"When you have a kicker like that, it changes your game plan," Krug said. "He kicks 50-yard field goals pretty consistently in practice."
Chino Valley improves to 2-0 with the victory, while Sedona drops to 0-2.
"They (Chino Valley) made the plays at the end, and we didn't," Sedona head coach Tom Miller said. "That was a heck of a kick, especially coming from the left hash mark like that."
On paper, the game looked like it had the potential to be a mismatch. While Chino Valley suited up 40 players on its sideline, Sedona had 20 players dressed for the game and was coming off a 46-0 defeat to St. John's. Most of the Scorpions played on both sides of the ball, and still kept it close to the end.
"We're a young group," Miller said. "We kept coming back and never gave up, which was nice to see."
"They (Sedona) are a very scrappy team," Krug said. "They're going to do well."
While Rios was the player of the moment at the end, quarterback Mike Paulus was all over the field the entire game for Chino Valley. He rushed for three touchdowns and passed for one, and came up with several big plays in the fourth quarter.
"Mikey's a ballplayer," Krug said. "Whether he's at quarterback or tailback or wide receiver, he does a good job. He's really taken on a leadership role this year."
Sedona looked poised to take the victory, especially after its quarterback ran for a 23-yard touchdown with 49 seconds left in the third quarter. The kick was good, giving the Scorpions a 27-18 lead.
"We just had to stop them," Paulus said of the fourth quarter. "We weren't going to give up."
The fourth quarter had plenty of drama beyond the game-winning field goal. Paulus hit tight end Colton Sandberg with a 23-yard TD pass early in the quarter.
The Cougars made a stop and got the ball back, but Sedona's Evan Favorite intercepted a Paulus pass and returned it all the way down to the Chino Valley 10.
The Cougars' defense made another stop by the goal line, and then the offense put together a dramatic drive that culminated in the winning field goal.
Kevin Hutson is a stringer for The Daily Courier. Follow him on Twitter at @KevinHutson. Contact him by email at sportsdesk@prescottaz.com.
More like this story
SUBMIT FEEDBACK
Click Below to:
This Week's Circulars
To view money-saving ads...