A haunting night in The Palace
Palace haunted history fascinates guests during after-hours tour to benefit U.S. VETS

By
Nanci Hutson
|
HutsonNanci
Originally Published: October 31, 2017 6:03 a.m.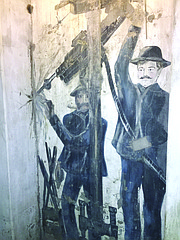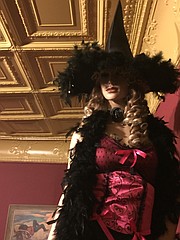 Walk through the restored swinging wood doors of the 19th century Palace Restaurant and Saloon on Whiskey Row ­— the oldest saloon in Arizona — and you are stepping into the frontier past, one filled with cowboys, miners, gamblers, shady ladies, notorious lawmen, and even some movie stars.
The hand-carved 1880s Brunswick Bar ferried to Prescott on a stagecoach from New Jersey is still the hub of the popular saloon and dining hall. Patrons of the Palace rescued the 24-foot-long, solid oak bar during the July 1900 blaze that razed Whiskey Row and many other downtown businesses. Legend has it the patrons moved the pride of the saloon across the street to the courthouse plaza. As the fire raged, they continued to down their whiskeys.
The Palace today is considered one of Prescott's more popular haunted places with its share of intriguing ghosts. Their mischief includes tossing bar glasses off the shelf; depositing too-heavy-to-lift-alone kitchen gadgetry in unlikely spots; and whistling in stairwells no longer open to the public. Modern-day saloon management was forced to replace their Shady Lady replica mannequin, "Annie" after mysterious spirits are believed to have pushed her down the narrow stairs that lead to what once was a thriving brothel.
Surveillance cameras, and some prestigious ghost hunters, attest to the presence of mysterious forces whose antics and energy have been spotted in spaces throughout the saloon. "Ghost Adventures" filmed a three-day session at The Palace last year.
On Sunday night, the Palace management opened up the saloon to a small group of about 20 paranormal enthusiasts for a $100-per-person, after-hours tour to places no one else gets to see and to hear ghost stories from local experts on haunted houses and businesses in Prescott. The tour was a benefit for U.S. VETS Initiative, a nonprofit agency in Prescott that provides housing and case management services to homeless veterans.
The spookiest spaces in the Palace as one might imagine were in the downstairs portion of the structure first erected in 1877. One small ante room with a sawdust floor and low-hanging pipes is a testament to the building's heyday: a carton of discarded and yellowed 19th century newspapers; cubicles bearing the names of the brothel's most popular working girls and dismantled pieces to what once were the saloon and hotel's three dumbwaiters.
Some of Sunday's guests spotted ghostly "orbs" moving about the space, as well as in the area that during the Prohibition was a speakeasy. Parts of the basement that in the 1970s and '80s housed some businesses still have stone walls and fractured filigreed tin ceiling pieces from when the Palace was rebuilt after it first fire in 1883.
At the bottom of a closed-off staircase that leads up to Montezuma Street just feet from the saloon's main entrance are two 1898 murals. One is of the Chilkoot Pass in Alaska and the other is a black-and-white etching of miners.
New-to-Prescott resident Linda Astromowicz said she and her husband, Joe, opted to attend because they want to learn about the frontier history and haunts of their new hometown.
"We heard the Palace was haunted … I think it's fascinating."
Prescott-based ghost investigator Maureen Riley shared some paranormal recordings, one of which she suspects is the voice of Jennie Clark, a frontier prostitute from Tucson. Clark was stomped to death in the busy saloon by her then-boyfriend. No one came to her rescue, she said.
Haunting Experience Tour owner Darlene Wilson opened the evening with a brief history of Prescott, a city known for its haunted mansions, hotels and bars. She talked of some of the Palace more notorious visitors, including the Earp brothers and Doc Holliday, a dentist better known as a gunslinger and gambler who legend has it killed a man in the saloon during a knife fight. The Palace still serves Holliday's favorite drink: Old Overholt.
She attested to seeing ghostly apparitions and other odd phenomena in this place. She then told a story of a women's luncheon where condiments ended up flying out of a cabinet, striking the diners. The women penned a note that raved of the food but was firm: "We're never coming back."
Palace marketing manager Sierra Mann has her own not-so-nice ghost story.
On Sept. 11, she went into the basement kitchen area to do some inventory. All alone, she stayed only a couple minutes. Afterward, she discovered deep scratches all over her chest. She consulted with Wilson and Riley. Once the scars healed, she attempted to visit the room again. This time, she came out with just one long scratch across her chest.
"This place gives me the heebie-jeebies," admitted Palace co-manager Martha Stanford.
More like this story
SUBMIT FEEDBACK
Click Below to: