A remission-ed cancer patient's Corner of Hope
Deborah Portzer gives to women with cancer

By
Nanci Hutson
|
HutsonNanci
Originally Published: October 29, 2017 6:03 a.m.
Where to help:
Anyone who might wish to contribute wigs or scarves to Deborah's Corner is asked to contact Virginia Viol at Cancer Centers of Northern Arizona Healthcare, Verde Valley Medical Center – Sedona campus at 928-204-4175.
In Deborah Portzer's yard are lawn ornaments that spell out the word "HOPE."
She opens her front door and is wearing a pink T-shirt that reads, "LIVE HOPE."
The ebullient, 63-year-old Prescott woman with staccato speech and a hearty laugh is clear her life mission is to parlay her three-bout journey with cancer into hope for fellow patients.
At the beginning of this year, Portzer birthed "Deborah's Corner," a section of the nurses' station at Cancer Centers of Northern Arizona Healthcare in Sedona where she brings "pick-me-up" gifts to cheer and give hope to fellow cancer patients. A friend donated to her some colorful tube scarves. They proved so popular that a handful turned into more than 100, and now are a mainstay gift along with wigs, handmade cards and other gifts donated to her from friends and neighbors eager to support her journey of recovery.
"God has opened many doors on my journey … I get invigorated by doing this. It makes me happy, and gives me energy. It's lovely to help others."
At 35, Portzer made an appointment for her first mammogram. She was "devastated" with the diagnosis: breast cancer.
She underwent what constituted a partial mastectomy of her right breast followed by radiation. She opted against chemotherapy.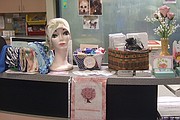 She and her husband, Jim, went on about their lives; they figured she had slew that dragon.
Then one day, 11 years later, she was reaching for something and felt a sharp pain in her breast. She immediately dialed the surgeon. He informed her she was just a "worry wart" and it was likely no big deal. She was not convinced. She informed him she would not leave his office until "you do something."
Her persistence prompted a needle biopsy that was found to once again be positive.
"Another devastation," Portzer said.
That time, though, when the doctors informed her she would need a full mastectomy of that breast she said she wanted a double mastectomy and chemotherapy. She wanted to kick cancer once and for all.
She lived on hope for 16 years.
"I feel blessed I went all that time," said the long-time dance instructor, clogger and avid tennis player.
In July 2016, though, Portzer again heard the words she had come to dread.
Three months earlier, Portzer started to limp. She figured it was a muscle pull after playing three sets of tennis. When it didn't improve after a couple months, Portzer's husband urged her to see the doctor. The initial thought was this was another type of breast cancer. Portzer's instincts suggested otherwise. After a visit with Arizona Oncology Dr. Deborah Lindquist, now headquartered in Sedona, and a series of bone scans, Portzer was informed she had stage 4 metastatic breast cancer in her leg and hip.
The next months were no fun — the ever upbeat Portzer struggled to hang on to her hope. She required multiple surgeries to remove cancer-filled bone and underwent a hip replacement. She developed fluid on the heart. The silver lining was no cancer was found in that area.
For a year, Portzer was in a wheelchair. She spent many hours at her oncologists' office. She decided she needed to do something to lift her spirits and that of others: the inspiration for her gift-giving corner.
"Deborah's Corner has been quite a gift to many in cancer therapy, and it is a silent joy that she receives, just knowing that she can give to those on this path," said her cousin Virginia Longoria.
In May, Portzer's hope for recovery was answered. She now takes a chemo pill and undergoes routine blood tests. She leaves the rest to God.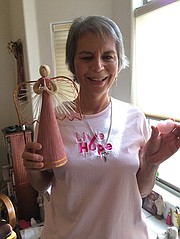 In September, her cousin, Virginia Longoria, treated her to a "Celebration of Life" party in California. At the party, Portzer said she danced without her cane.
"To see her dance … was my blessing," Longoria said.
Friend Dona Speights, who makes the tube scarves with donations of fabric from Longoria, said Portzer is truly a giver of hope to all she encounters.
"Her spirit is just beautiful. It's all I can say. She just wants to give hope to everybody because she hasn't lost hope," Speights said.
More like this story
SUBMIT FEEDBACK
Click Below to: