Business in Brief: Uber rides into credit card market with no-fee card
Originally Published: October 29, 2017 5:53 a.m.
Uber rides into credit card market with no-fee card
NEW YORK (AP) — Uber already has a home on your phone. Now it wants a place in your purse or wallet.
The ride-hailing giant on Wednesday unveiled a new no-fee, co-branded credit card with British bank Barclays that it hopes becomes a major part of consumers' everyday spending habit.
While it will use points, the Uber Visa Card is designed as a cash-back loyalty program. Paying for an Uber ride will get the cardholder 2 percent cash back.
Other rewards include: 4 percent cash back for every dollar spent on dining including Uber's UberEATS on-demand food delivery service; 3 percent cash back on airlines, hotels and vacation home rentals like Airbnb; 2 percent cash back on online purchases and subscriptions; and 1 percent cash back on all other purchases.
The Uber card will also give a small $50 annual credit toward online subscriptions, like Netflix, Hulu or Amazon Prime, if the customer spends $5,000 on the card in a year. The card will also insure a person's smart phone to up to $600 for theft or damage as long as the customer puts his or her monthly mobile phone bill on the card.
The card will also have no foreign transaction fees when used outside the U.S. and notably, no annual fee.
Sears-Whirlpool curtail relationship after 100 years
NEW YORK (AP) — Sears will no longer sell Whirlpool-branded appliances, curtailing a business relationship that dates back more than 100 years.
In a note sent to its stores last week, Sears said that Whirlpool was making demands that would've made it difficult to sell those name-brand appliances at a competitive price.
Sears has been ravaged by new competition for years, from stores like Home Depot and also from Amazon.com and other online retailers. It's been closing stores as competitors take a bigger slice of the territory it dominated for decades. In the U.S., consumers buy most of their small appliances, from Walmart, according to market research firm TraQline. Amazon comes in second, with Sears placing fourth behind Target.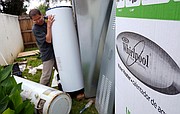 The change to the Sears-Whirlpool partnership is effective immediately and Sears is also pulling from its floor products from Whirlpool subsidiaries like Maytag, KitchenAid and Jenn-Air.
Sears said that it would sell off the remainder of its Whirlpool inventory. Its stores will now only sell its Kenmore products and other brands like LG, Samsung, GE, Frigidaire, Electrolux and Bosch.
Whirlpool's CEO Marc Bitzer told investors Tuesday that the company told Sears in May that it would no longer supply branded products because it could not reach terms that were "acceptable to both parties."
He said Whirlpool will continue to supply the Kenmore products it makes for Sears.
Not at home? Amazon wants to come in and drop off packages
NEW YORK (AP) — Don't want Amazon boxes sitting on the porch? The company hopes you'll let a stranger inside to drop them off.
Amazon said Wednesday it'll launch a service called Amazon Key next month that will let people allow the door to be unlocked when they're not there so packages can be left inside.
The proposal drew plenty of humorous reactions on social media, as well as concerns about safety or delivery employees being mistaken for intruders. Amazon said the drivers would be well-vetted, while one expert said the company has built up trust with customers and younger customers were more likely to try it out.
An in-home delivery program also falls in line with Amazon's strategy of trying to make shopping with it so convenient that consumers don't think about buying elsewhere. And with the option requiring a specific camera that it sells, the move helps Amazon tie customers even closer to its gadgets as well as the items it delivers.
Customers who want to use the service would need to be Amazon Prime members and would have to buy a camera and a Wi-Fi-connected lock from the Seattle-based company that starts at $250. Shoppers will then be able to choose in-home delivery as an option in the Amazon app.
When the delivery person shows up, they will knock first and scan the package. Amazon will make sure the person is at the right home and unlock the door. No codes or keys are needed, and the indoor camera will record the in-home delivery. The Amazon Cloud Cam also lets users watch a livestream or recorded video on Amazon's Fire tablet, Fire TV or its voice-activated Echo devices that have a video screen.
The service is likely to be more of a hit with younger families, said Timothy Carone, an associate teaching professor at University of Notre Dame's Mendoza College of Business. He said millennials are already comfortable posting photos and their whereabouts on Facebook, Instagram and other social media. "They're less concerned about privacy than older generations are," Carone said.
Walmart is testing a similar service in California's Silicon Valley, which lets delivery people drop off packages or stock the fridge with groceries bought from Walmart.com. The delivery person is given a one-time code to open the door and Walmart said customers will get an alert on their smartphones when someone enters.
SUBMIT FEEDBACK
Click Below to:
More like this story