Prescott Veterans Day Parade will honor five branches of U.S. military

By
Cindy Barks
|
Cindy_Barks
Originally Published: October 28, 2017 6 a.m.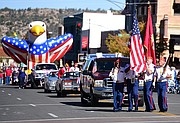 Five area veterans – one from each branch of the military, and representing various eras – will take to the streets of Prescott on Nov. 11 as grand marshals in this year's Veterans Day Parade.
The parade is set to kick off at 11 a.m. Saturday, Nov. 11, in downtown Prescott, preceded by a 10:30 opening ceremony in front of the Yavapai County Courthouse at the corner of Cortez and Union streets.
Michelle Stacy-Schroeder, recreation coordinator for the City of Prescott, said the five veterans were chosen to commemorate the parade's theme, "Honoring All Who Have Served: Let Us Never Forget."
"It will be a great tribute to those who have served in our armed forces," Stacy-Schroeder said.
This year's grand marshals include:
• John Moffitt, former Prescott City Attorney, who served in the U.S. Army from 1967 to 1970.
• Don Briggs, a 100-year-old Prescott resident who served in the U.S. Navy from 1943 to 1945.
• Teddy Draper, a Navajo Code Talker, who was born in Chinle, and served in the U.S. Marine Corps from 1941 to 1946.
• Miyoshi Brame, a Prescott Valley resident who served in the U.S. Air Force from 2009 to 2015 during Operation Enduring Freedom and Operation Iraqi Freedom.
• Jamie Chacon, a Prescott resident who served as a public affairs specialist in the U.S. Coast Guard from 1987 to 2007.
Each of the five grand marshals will ride in a Corvette provided by the Prescott Vette Sette Corvette Club. Walking alongside the veterans' cars will be members of the various military branches who are currently serving.
Stacy-Schroeder says the parade will feature a total of 84 entries, including two high school marching bands, a middle-school band, bagpipers, and entries from area VFW and American Legion groups.
Among the other entries will be a black corvette commemorating those who were prisoners of war and missing in action (POW/MIA) – an entry that traditionally concludes the parade.
The parade route begins at the corner of Willis and Cortez and heads south on Cortez, turning west on Goodwin, and then north on Montezuma, and back toward Sheldon.
The opening ceremony will include the Pledge of Allegiance led by Congressman Paul Gosar, and remarks by Prescott Mayor Harry Oberg; James Johnson of the VA Medical Center; and Frank Ayers of Embry-Riddle Aeronautical University. Ana Nava will perform the national anthem, and Yavapai County Supervisor Jack Smith will serve as master of ceremonies.
After starting at 11 a.m., the parade will pause at 11:11 a.m. for the reading of the Armistice Day Proclamation that commemorated the end of World War I.
About 2,000 people typically line the streets for the parade, which has taken place in downtown Prescott for the past four years.
Stacy-Schroeder, who acts as coordinator of the parade, says the event is planned with the help of a committee of about 10 members, including a member from the VA Medical Center.
Arizona Public Service (APS) is the title sponsor for the parade, and other sponsors include: Guild Mortgage, Affinity RV, Dorn Homes, and Barrett Propane.
More like this story
SUBMIT FEEDBACK
Click Below to: