Prep Soccer: Defending champion Cougars beat Round Valley, advance to title match
By
Doug Cook
|
dougout_dc
Originally Published: October 28, 2017 12:25 a.m.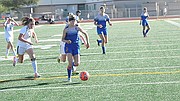 It's been a bit of a bumpy ride for the defending 2A state champion Chino Valley girls' soccer team this fall. But the Cougars have persevered, and they seem ready for one final challenge to cap off 2017.
In the 2A state tournament semifinals Friday afternoon at Campo Verde High, the No. 3-seeded Cougars came from behind to defeat No. 2 Round Valley, 3-1, to advance to the state championship match today, Oct. 28, versus No. 1 Northland Prep of Flagstaff. Kickoff is scheduled for 3 p.m. at Campo Verde. "We had a really good week of practice, and I was pretty confident going into that game," Chino Valley coach Allen Foster said of the semifinal.
In Friday's other semifinal earlier in the afternoon, Northland Prep eliminated No. 4 Show Low, 5-0. The Cougars went 0-3 against Northland Prep this season, including two power-point games in the 2A Central region.
Lauren Foster paced Chino Valley against Round Valley on Friday, scoring back-to-back goals within 5 minutes of each other in the first half (24 minutes left and 19 minutes to go), including a gorgeous free kick, to hand the Cougars the lead for good, 2-1.
"My dad [coach Allen Foster] this morning told me that if we wanted to go [to the final] I'd have to take it upon myself and I'd have to do my best game, and I have to try to finish every opportunity I have," Lauren said. "That's been the problem — I haven't been finishing as much as I have [been]."
Round Valley senior midfielder Natalie Goodsell provided the lone goal for the Elks less than 10 minutes into the opening half on a bounding ball in front of the Chino Valley net for a 1-0 lead.
The Cougars secured the victory with 23 minutes remaining in regulation when Foster found freshman forward Jessica Krogh streaking down the field on a breakaway. Krogh scored the insurance goal to ice it for Chino Valley.
"Chino played fabulous — they're a good team," Round Valley coach Bryce Burnham said. "They were prepared more than we were. That's what the bottom line is."
Cougars sophomore goalie Kacey Matthews played stingily between the posts, diving for balls and generally keeping the Elks at bay. Coach Foster calls Matthews the "best keeper in the state" and a "superstar." Matthews remains modest, however. "I made a couple mistakes — I'm not that proud of myself, I shouldn't be that confident," she said. "But it was my offense up there who got the job done. It's not our first rodeo here. We were ready, we were prepared. We worked our butts off for this."
Chino Valley junior defender Serena Reed also played a key role with several stops on the back line.
"We were pretty confident coming into Round Valley," Reed said. "We were a little worried about Northland, but we knew we came out on top last year against Round Valley [at state]. At the beginning of the year we were looking pretty rough, but we peaked at the right time and we came out on top because of hard work."
With the victory, Chino Valley upped its record to 14-4-1 overall. Round Valley, which struggled with some injuries, ended its season 15-2-2. These teams had met twice during the regular season, with the Cougars tying the Elks in a power-point match and losing to them in a tournament game.
"It just wasn't our day today; we kind of got off-guard a bit," Goodsell said. "But we played our hearts out."
SUBMIT FEEDBACK
Click Below to:
More like this story