Lots to be learned on road to college
First-generation student prepares for what's next

By
Nanci Hutson
|
HutsonNanci
Originally Published: October 26, 2017 6:02 a.m.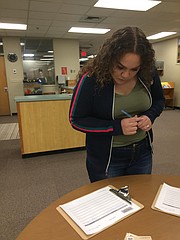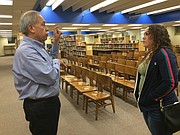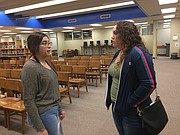 As the first generation of her family to be able to go to college, Prescott High School senior Elena Aragon is investing considerable time and effort in figuring out options that will suit her career goals and wallet.
On a Monday evening, more than five hours after her school day ended, Elena and fellow senior Tania Andrade joined with about a dozen parents, a couple attending with their children, to hear a program from a local lawyer and PHS parent, Mitch Padilla, titled "My College Roadmap — Finding the Best College for the Least Amount of Debt."
One of the parents in the audience was none other than Prescott Unified District Superintendent Joe Howard. Elena has grown up with his twin sons, Jonah and Jason, also on the hunt for the right college.
"I thought it was really good," Elena said of the program that walked families through everything from when to take college placement tests, and which ones to take, to filling out the oft-required Free Application for Federal Student Aid (FAFSA) form. "I think a lot more students should have come. There is so much to learn. We should get all the help we can get."
In her case, Elena has wasted no time in her last year of high school preparing for life after graduation. An academically focused student, Elena is taking three college-credit courses this year: animation, Algebra and English. She, too, is attending every college-related workshop, fair or field trip that fits into her schedule.
A college fair she attended earlier this month affirmed her decision to spend her first two years after graduation at Yavapai College where she can earn an associate's degree, at the best price. After finishing all those prerequisites, Elena said she will be able to transfer to a college or university, most likely in Arizona, where she intends to earn a bachelor's degree in her field of choice. At this time, Elena said she wants to pursue a career in forensic science.
"That's what they (college and university representatives) recommended," said Elena whose older sister, Maria, is her second year at Yavapai College studying to be a nurse.
Elena is also taking a pragmatic approach related to financing her education. Part of her research has been aimed at attending forums, such as Padilla's program, so as to figure out how she can maximize scholarships, grants, even work study, rather than loans that will leave her in substantial debt.
On Dec. 4, Elena will attend a "Cash for College" program at Yavapai College.
At the close of his session, Padilla talked with Elena about some of her options as a first-generation college student. Some college and universities are looking to encourage those students, and are willing to help provide additional financial assistance so that they can attend.
"Affording college is important, but there are ways to figure it out," Padilla said, advising that PHS seniors have a lot of local scholarship opportunities to explore even before seeking college aid. "In the end, it all works out."
Elena took a lot of notes and said she will follow up on that advice. She intends to apply early and often for any scholarship for which she might be eligible.
For the last 12 years, Elena has been working toward the day when she would don a cap and gown and earn the diploma that would assure her entry into college. Now that it is just a few months away, she admits to a mix of nerves and excitement about taking that next step.
"To grow up and do something I love makes me happy, but I also don't want to leave my parents (Jose and Jimenez)," she admits. "But you have to grow up, eventually."
The bittersweet tug she articulates is not uncommon.
"I think we all have decisions like this throughout life, but this is the biggest, most prominent time when we have to answer the question, "Can I get what I need close to home, or does that place far away offer more to me?" said Howard, speaking as both a two-decade educator and a father of soon-to-be graduates. "In my own personal experience, sometimes you have to go farther away to realize where your home really is."
In her daily routine these days, Elena said she finds she gets wistful because soon this will be a memory.
"We know that after high school we'll all be going our separate ways … we won't be coming to this school and walking these hallways," Elena said. "It'll be a big change, for sure … I think I'm ready."
More like this story
SUBMIT FEEDBACK
Click Below to:
This Week's Circulars
To view money-saving ads...