Frank N. Furter invades Prescott Saturday
Take your pick of 'Rocky Horror' shows -- at Elks, Raven Cafe

Originally Published: October 26, 2017 8:57 p.m.
Updated as of Saturday, October 28, 2017 6:50 AM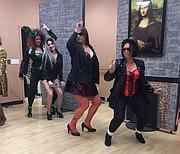 Come up to the lab, see what's on the slab and quiver with antici…pation for two showings of The Rocky Horror Picture Show this weekend.
Tamee Niekamp is directing a live show at the Elks Theatre and Performing Arts Center, 117 E. Gurley St., at 7 p.m. on Saturday, Oct. 28. It's returning to the Elks after doing it at Prescott High School last year, Neikamp said. Though people can't throw things, it's a better venue to hold it in.
"They can bring in newspaper and put the newspaper over their head, they can bring little things like that," Neikamp said. "But there's no throwing of things just out of respect for the Elks."
Unlike a shadowcast, where actors mimic the actions of the characters during the film, this is a live performance rehearsed and put on by actors. There are a lot of callbacks when doing the show live, Neikamp said. There will be live music by The Koalakazes.
Tickets are $25 for VIP seating and $20 for other seating and can be purchased online at www.prescottelkstheater.com, by calling 928-777-1370 or at the door one hour prior to the performance.
One big difference between doing a live performance and the shadowcast is for the latter, there aren't as many callbacks and the audience can't talk as much to the people during a shadowcasting, which is when they would throw things more, said Lexe Niekamp.
"That's normally how it's all meant to be set up because in the live showing, they don't want you to do it because there's no screen behind them," she said. "It's more of an experience with everyone. But this is more like a show, we're putting on a show for everyone else."
The show is still interactive with phantom dancers coming into the audience, getting them going and getting them motivated to do the Time Warp, Tamee said, adding that it'll be a fun and different experience.
Tamee said she always likes seeing people's reactions to The Rocky Horror Picture Show, having grown up not really knowing too much about it before going to a midnight screening. Three years ago, she thought she'd try it in Prescott just to see what would happen, she said.
"We're almost sold out and last year, we did well with ticket sales," Tamee said. "There's something about it that people like."
Prior to the performance, there'll be a costume contest and a pre-show.
On screen
Later on at midnight is a showing at The Raven, 142 N. Cortez St. That will just be the movie without a shadowcast, Tamee said. Tickets for that are $5 presale and $8 at the door and Stone Brewing will bring some brews. Tickets are available online at www.ravencafe.com/weeklyevents.
Prop packages will be available at The Raven and while people may bring their own, no outside food is permitted. Costumes are encouraged as well.
Attendees must be at least 21 years old to attend the showing at The Raven.
More like this story
SUBMIT FEEDBACK
Click Below to: