Scary times ahead for Senior Center
People &Places: Staff preparing for a Halloween party/luncheon
Originally Published: October 25, 2017 6:04 a.m.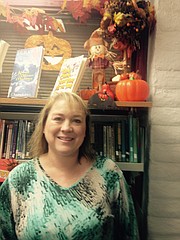 "The goblins are haunting, the monsters will mash, at this year's annual Halloween party/luncheon," said Cyndi Thomas, the senior service director at the Chino Valley Senior Center.
Thomas has been with the Senior Center for the past 12 years, and along with the Advisory Board, they plan all the entertainment events, activities, and menu planning at the center. On Oct. 31 starting at 11:30 a.m. will be their annual Halloween party.
"Besides our unique menu options for that day, which includes Mummified meat (meatloaf), Frightful Fungi (mushrooms), Nightshades (potato), Hardtack (biscuit), Lemon-Lime-Slime cake, Frightfully Fruity Fun Punch, party favors filled with goodies, and our Halloween Holiday Salad bar featuring Purple Monster Slaw, Deviled Eggs etc., we also offer a costume contest, which the seniors always dress up for and really enjoy," said Thomas.

"The seniors really use their imaginations and come up with some great costume ideas, such as this little old lady who walked in with a shower cap on, a house dress, and a plastic mask.
Little did I know that it was one our regular gentlemen dressed up. Most of their costumes are homemade with a few store-bought such as Snow White and Mrs. Potts from Beauty and the Beast.
Planning this Halloween party each year makes me feel like I have helped to keep our seniors' childhood memories alive and they all seem to get a kick out of dressing up in costumes," she added.
Anyone is welcome to join in the fun at the Senior Center. The cost for lunch is a suggested donation for $4 for seniors age 60 and up. A $5 charge is for those under age 60.
"For many of the seniors our Chino Valley Senior Center is their home away from home and it makes me feel proud to provide this service for the seniors to be able to come and celebrate our special occasions such as our Halloween party," Thomas said.
For those new to the community, the Senior Center is located at 1021 W. Butterfield. Call 928-636-9114 with any questions or to find out about other events.
More like this story
SUBMIT FEEDBACK
Click Below to:
This Week's Circulars
To view money-saving ads...