Safe Halloween fun at Memory Park
Town pushing hard for more vendors

Originally Published: October 25, 2017 6:04 a.m.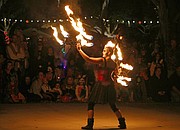 When the ghosts and goblins are out hunting for candy, all their parents want for them is to be safe.
Chino Valley has just the thing — the 20th annual Trick-or-Treating in Memory Park, a free event from 5 to 8 p.m. on Tuesday, Oct. 31, that'll feature trick-or-treating at participating booths, a Children's Halloween Maze, a Zombie Zone with food trucks, fire dancers from Pyroklectic performing two 15-minute shows and spooky stories. It's a lot of fun and a lot easier for parents and kids than going from house to house to house, hoping that someone's home with candy, said Chino Valley Recreation Lead Celia van der Molen.
"It's a safe place for the kids to go and get all their trick-or-treating done," van der Molen said. "I have a daughter myself and it's nice to be able to bring her there and let her run around and have fun."
This year, there are two food trucks, which are great for people just getting off work, getting the kids ready and coming out to the event because it's right around dinnertime for most people, she said. The participating food trucks are Granite Mountain Smokehouse and Iron Horse Grille. There's also a local church group bringing bounce houses and putting on all sorts of games, van der Molen said.
The town is always looking for more vendors to come in, set up a booth and hand out candy too, she said. Last year, there were about 3,000 people so it'd be a great way to let people know that a specific business is a part of the community, van der Molen said.
"A lot of the vendors just go all out and decorate their booths. They really help to pull everything together," she said. "A lot of the same ones that did it last year are on it and ready to go again this year, but we're asking new businesses to come in … it's a great way to get your name out and be a part of the community."
For more information about the 20th annual Trick-or-Treating in Memory Park, or to sign up as a vendor, contact van der Molen or Recreation Coordinator Hailey Byrd at 928-636-9780.
SUBMIT FEEDBACK
Click Below to:
More like this story