Tyler Gatlin named NAZ Suns interim coach
GM: Search underway for head coach, Gatlin to be considered

Originally Published: October 24, 2017 2:38 p.m.
Updated as of Tuesday, October 24, 2017 11:17 PM
https://soundcloud.com/sportswriter52/naz-suns-gm-louis-lehman-on-tyler-gatlin-coaching-search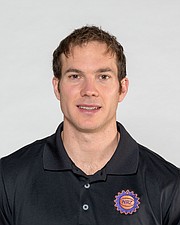 Just 24 hours after Tyrone Ellis was promoted to assistant coach for the Phoenix Suns, its NBA Gatorade League counterpart officially named Tyler Gatlin interim head coach on the first day of training camp Tuesday morning.
Gatlin, an assistant coach under Ellis during the Northern Arizona Suns' inaugural season in Prescott Valley a year ago, was informed late Sunday he would run training camp.
The news came just hours after Phoenix fired Earl Watson and Jay Triano was selected to become the Suns' interim head coach.
"[A big] shake up on Sunday, and at about 9 p.m., we had three coaches going to Phoenix and I'm getting ready for Monday," Gatlin said with a big smile after Northern Arizona's first practice Tuesday. "I'm super, super fortunate to be in this position."
Along with Ellis, associate head coach Bret Burchard and assistant Brandon Rosenthal were also called up by Phoenix, leaving Gatlin to run the show in Prescott Valley.
Suns general manager Louis Lehman said this shakeup within the coaching ranks of the organization means "next man up" and Gatlin is that guy.
"He's been with us since we were in Bakersfield. He's a young, high-energy, really smart, and really good with the players in terms of their development," Lehman said, adding Gatlin is the most prepared coach for the job right now.
Lehman confirmed Gatlin is running training camp under "interim" status while a coaching search commences.
But, Lehman said, Gatlin will certainly be considered for the job during the interview process.
"We have to do our due diligence to find the most qualified and best fit for the job," Lehman said. "We're going through and compiling a list of guys and we'll go through the interview process."
Lehman said they are looking at two types of coaches. One, a coach who has previous G League experience and can come in from day one to lead the club through the daily "challenges" that go on throughout a season. Two, the Suns are considering a young, high-energy up-and-coming coach who can be a long-term fit.
"I don't have an answer for which direction we're going to go, but we'll vet out all the qualified candidates," Lehman said.
There is no timetable to name the next Northern Arizona head coach, Lehman said, but they aim to have one in place before the Suns open the season Saturday, Nov. 4, against Agua Caliente.
Gatlin, 30, served as an assistant coach for the Bakersfield Jam before the Phoenix Suns bought the franchise and moved it to Prescott Valley in April 2016.
He spent four seasons (2011-2015) with the Texas Legends as a video coordinator, scout and assistant coach. In 2010, the Dallas, Texas, native served as general manager for the Dallas Impact of the American Basketball Association.
Brian M. Bergner Jr. is associate sports editor and a columnist for The Daily Courier. Follow him on Twitter, Instagram and SoundCloud at @SportsWriter52, or on Facebook at @SportsAboveTheFold. Reach him at bbergner@prescottaz.com or 928-445-3333, ext. 1106.
More like this story
SUBMIT FEEDBACK
Click Below to: