Mothers in Bloom bringing Prescott-area moms together
Originally Published: October 24, 2017 5:20 p.m.
Prescott Mothers in Bloom was founded in 2017 by Prescott-area mothers Danielle Hampton and Veronica Phillips. Mothers in Bloom, a not-for-profit group, was created in the spirit of friendship and fun, focusing on creating opportunities to connect and plan service-oriented events with their children – but also do things on their own alongside local mothers, according to a news release.
"We believe that every mother needs women in their corner, whether it's a 'me too,' a cheers, or just someone to laugh with," said Hampton, "and that's what we hope to achieve with Mothers in Bloom – a group where all are welcome, and where we are all encouraged to be our biggest, best, most authentic selves."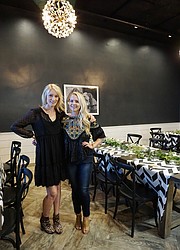 Because when we shine, we teach our kiddos to do the same, she added. And really, that's one amazing way to make our community that much better – loving ourselves, loving our people, and growing that love bigger whenever we can. Starting here in Prescott and blooming outward, lifting each other up ... and having a ton of fun while doing so.
Their first event was held in September at the Barley Hound, which donated its back patio event space, with food and drinks sponsored by Realtor Hank Hampton.
Mothers in Bloom partnered with Lighthouse for Hope, an Arizona-based charity that works with pediatric cancer patients, providing support to their families as they go through treatment.
"We had 700-plus items donated to create care bags for the children in the hospital, and our kids and parents created the bags together," Danielle said. "We also had a card making and blanket-tying station that the kids enjoyed working on. We had a goal of creating 25 care bags and ended up making 75, along with countless letters and many fleece tie-blankets."
Mothers in Bloom's second event – a wine tasting mixer – was on Oct. 18, at Park Plaza Liquor Deli. The Deli provided the event space, and Wilder Creative Design Studio designed the event decor. Over 75 local mothers turned out to meet new friends and mix and mingle with old ones. A portion of the ticket price went to Prevent Child Abuse Arizona, and Mothers in Bloom raised nearly $400.
"We look forward to creating more opportunities to bring together mothers in our community, and we encourage anyone interested to follow along on Facebook to stay up to date on our events and happenings," Danielle said.
More like this story
SUBMIT FEEDBACK
Click Below to:
This Week's Circulars
To view money-saving ads...