Study: Most Americans would favor dropping the bomb over a conventional ground war
Are nuclear weapons no longer taboo?
Originally Published: October 24, 2017 6:02 a.m.
Breakdown of findings
780 Americans surveyed support killing non-combatant civilians:
Republicans: 69.5 percent
Democrats: 48.4 percent
Under age 60: 51.6 percent
60 and older: 70.5 percent
Favor death penalty: 67.3 percent
Oppose death penalty: 31.5 percent
Source: Revisiting Hiroshima in Japan: What Americans Really Think about Using Nuclear Weapons and Killing Noncombatants
In a world of political posturing grown turbulent, when saber-rattling has become louder than in the past, political scientists from Stanford University and Dartmouth College decided to ask a question:
Would Americans support the use of nuclear weapons against civilians to force a nation to surrender?
The U.S., the only country to have actually used nuclear bombs, did this before, of course, in an effort to end World War II. And it worked: leveling the cities of Hiroshima and Nagasaki in 1945 convinced the Japanese government to surrender.
Since that time, President Harry S Truman's decision has been debated many times: was the loss of civilian life resulting from the bombing, upwards of 140,000, justified because it saved the lives of an estimated 200,000 Allied troops who would have died in the prosecution of the war?
Or should nuclear weapons never be used in that way again? Or should they be used at all?
What's Your Opinion?
Would you support the use of nuclear weapons against civilians to force a nation to surrender, or should nuclear weapons never be used in that way again?
DIFFERENT RESPONSES
The polling was done with 780 adult Americans, and most preferred an aerial attack on non-combatant civilians over a ground war.
"Different kinds of Americans had different responses, based on political party, based on age, based on education, based on race, based on gender," said Dr. Richard Bloom, director of Terrorism, Intelligence and Security Studies at Embry Riddle Aeronautical University.
He added that, among "experts who do this for a living, whether they're in the military or intelligence world, or professors at universities who specialize in this kind of thing, this has been a discussion that's been on-going since the mid- to late-1940s."
In a simplified poll of local Facebook users, it was clear that most did not support the use of nuclear weapons.
"I would encourage our military to re-group and try another offensive and keep trying ways other than using a nuclear weapon in any way," Jeanette Hartwell said. "At least on a populated center. With all the advances in technology, we probably don't need to go that route."
"We as a human race should have learned from World War II that nukes are not the option whatsoever," Patrick Ivett said.
But "all it would take is once and the rest of the world would take notice," Helen Ferguson said.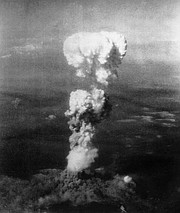 THE SURVEY
The scholars, Scott Sagan of Stanford, and Benjamin Valentino of Dartmouth, developed the survey suggested this scenario: Iran's government responds to Western sanctions by attacking a U.S. warship, killing about 2,000 sailors. A prolonged ground war follows, with thousands of casualties on both sides.
To win this war, the U.S.-led coalition must capture Tehran. The U.S. could invade or launch a devastating aerial attack.
An invasion would mean large-scale U.S. military fatalities, with 20,000 dead, the survey told respondents.
As for the aerial attacks, one option offered was a nuclear attack on an Iranian city, Mashhad, population 100,000; another was a nuclear attack that would kill 2 million Iranian civilians; a third option offered was to kill 100,000 civilians with conventional bombs.
Of particular interest to Sagan and valentine was whether what's known as the "nuclear taboo" was a real concern to people.
"Contrary to the nuclear taboo thesis, a majority of Americans (59.3 percent) are willing to support the use of a nuclear weapon against and Iranian city, killing 100,000 civilians," the report said.
And, they pointed out, an even larger number (67.3 percent) were willing to kill non-combatants with conventional bombing.
And 59.1 percent supported the nuclear attack of Tehran option, killing 2 million civilians.
"Belief in the value of retribution is strongly related to support for using nuclear weapons, and a large majority of those who favor the use of nuclear weapons against Iran stated that the Iranian people bore some of the responsibility for that attack because they had not overthrown their government," the report said.
What's your opinion? Take our online reader poll.
More like this story
SUBMIT FEEDBACK
Click Below to:
This Week's Circulars
To view money-saving ads...