Rants & Raves: Oct. 22, 2017
Originally Published: October 22, 2017 6 a.m.
Got something on your mind? Tell us about it in 40 words or less.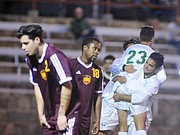 I would like to commend Photo Editor Les Stukenberg for his photo taken for the article "Yavapai routs Western 6-1." He captured the pure emotion of both sides. Defeat in the foreground and celebration in the background. Well done.
Tobacco companies pushed fake science saying that cigarettes don't cause cancer. Why is it so hard to believe that oil and coal companies aren't doing the same thing? Fossil fuels are warming our planet.
Prescott has more irresponsible drivers than I have ever seen. Weaving all over the road and they are on phones talking or looks like they are texting or taking pictures. Being on a phone should be banned in Arizona.
Courier columnist Tom Cantlon is so wrong when he states believers in Christ Jesus are traditional conservatives. That term is a political philosophy emphasizing the need for the principles of natural law. Christianity is not political, and most certainly, not philosophical.
Deep Well Ranch has my vote. Most people who are against this development are living in houses that were not here 20 years ago. We all would like to keep Prescott small and hidden. However, in reality, world is changing.
We are quickly becoming a nation of over-sensitive, blamer, entitled, and hateful cry-babies. Stores should sell adult pacifiers to help those who suffer from political stress.
National Teen Driving Week: Please buckle up and hang up the phone! Help us all stay alive, HANG UP & DRIVE!
Let's go back to 2008 when everyone had access to health care. President Obama and the Democrats pushed for health insurance and "that" was passed by ONLY Democrats. That is the current problem.
I pay about $1,200 a year to APS. I am installing solar and going off grid! Done and done.
Tax cut coming, but don't expect to see much: Low corporate taxes are just one spoke in the wheel. Corporate headquarters will not relocate to Arizona with the poor K-12 education system. Corporate employees demand great education for their children. Legislators are shortsighted. Money isn't everything.
It was striking that none of our elected state officials could find the time to attend the recent Arizona Town Hall on education. One would conclude that our public schools, tops on the list as issues, doesn't matter to them.
Whiskey Row, historically, has been a noise-making area. If you want a quiet zone downtown, you must remove the bars. Since they are historical buildings, that's not going to happen. Keep downtown the way it is.
Governor, if you want temporary teachers who teach for four years, offer free tuition for each year commitment. If you want long-term teachers who make a positive impact on our state's education, offer a living wage. Duh!
Just because you need to turn left 2 or 3 miles down the road does not mean you should drive in the passing lane on Williamson Valley Road. Stay right except to pass not the other way around.
And just what do these "protesters" expect to accomplish by removing the monuments and names? History will still be there. You can't change the past. We need to remember it so as not to repeat it.
All Rants & Raves are subject to editing. Submit Rants & Raves at dcourier.com/rants-and-raves or email twieds@prescottaz.com.
More like this story
SUBMIT FEEDBACK
Click Below to: