Pizza Palooza? What's that about?

By
Max Efrein
|
mefrein
Originally Published: October 22, 2017 6 a.m.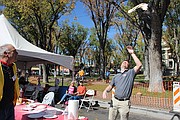 The smell hit me before I could even see what was going on.
It's a smell most Americans are all too familiar with. One capable of making your mouth water and your belly rumble.
It was the smell of pizza, and anyone within a block of downtown Prescott between 11 a.m. and 2 p.m. on Saturday, Oct. 21, likely got a whiff of it as well.
Consuming Goodwin Street on the south side of the Yavapai County Courthouse Plaza was the first-ever Pizza Palooza. Seven vendors dishing up about 20 different types of pizza participated in the tasting festival.
For $15, adults were allowed to try 10 of the pies. Among the options were gluten free barbecue, buffalo chicken, and pesto with ricotta, grilled chicken, red onions, artichokes, tomato, basil and mozzarella.
2017 Pizza Palooza winners
Best traditional pizza ($500 purse): Rosati's Pizza
Best gluten free pizza ($500 purse): Two Mamas
Gourmet Pizzeria
Best exotic pizza ($500 purse): Mama's Artisan
Pizzeria
Best dessert ($500 purse): Papa John's
People's choice
First place ($500 purse): Mama's Artisan Pizzeria
Second place ($350): Two Mamas Gourmet Pizzeria
Third place ($150): Rosati's Pizza
Honorable mentions ($50): Little Caesars, Pizza Hut
and Prescott Meals on Wheels
Favorite pizzas (a must try):
Pizza Hut: Four Pepper Pepperoni
Mama's Artisan Pizza: Mama's Pesto Special
Two Mama's Gourmet Pizza: Chicago Combo
Little Caesar: Supreme
Prescott Meals On Wheels: Stuffed Pretzel Bites
Papa John's: Buffalo Chicken
Rosati's: Pepperoni and Sausage
In addition to being an opportunity for them to market their local eateries, the vendors were vying for prize money. The four prize categories were for traditional, gluten free, exotic, and dessert. The winner of each received $500. There was also a People's Choice Award and a number of honorable mentions. Overall, there was $3,500 in prize money given out.
Being the first festival of its kind in the area, many had very little idea of what to expect, but they were game to give it a try.
"I mean, is there anything more fun than Pizza Palooza?" said attendee Jackie Nuccio.
In other words, one is hard pressed to find someone who doesn't enjoy pizza of some variety. And given the innovation that has rapidly taken hold of much of the culinary world, the varieties are endless.
"Now with gluten free and veggie options, there's a little bit of something for everybody," said Tina Blake, who came up with the idea to host such an event.
Blake works for Prescott Meals on Wheels and thought this would be a great way to fundraise for the nonprofit.
Getting the event off the ground proved a little more difficult than she imagined.
"The most difficult thing was getting people to grasp the concept that anybody could participate," Blake said. "Any restaurant or pizzeria. It didn't matter. It's just about celebrating pizza during pizza month." (That's right. There's a national pizza month, and we're smack dab in the middle of it.)
While there weren't quite as many vendors as she hoped for, she's pumped to grow this thing she has created.
"There's so much opportunity to grow," Blake said. "I'm hoping that we can take up the whole square one year."
The event also sported a children's area, soda zone and a beer garden.
More like this story
SUBMIT FEEDBACK
Click Below to:
This Week's Circulars
To view money-saving ads...