Watch: Woman steals credit card from store clerk having seizure
Originally Published: October 21, 2017 6:01 a.m.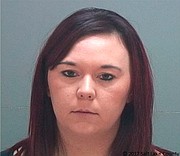 SALT LAKE CITY — Authorities in the Salt Lake City area say a woman stole a credit card from the wallet of a convenience store clerk as he was having a seizure.
The incident took place on October 4 in Midvale, Utah.
The Unified Police Department says Alexandra Justine Dewsnup, 28, walked around the counter at a 7-Eleven store as the clerk was having a seizure on the floor and took his wallet from his pocket.
Surveillance video obtained by the Salt Lake Tribune allegedly shows Dewsnup taking a credit card from the man's wallet, putting it under her arm and walking out of the store.
Police say Dewsnup later used the card to make a $130 online purchase from a clothing company.
The Salt Lake Tribune reported that after the surveillance video was released to local media several people called police and told them they recognized the woman, including her own parents.
Dewsnup was arrested October 18 and booked into the Salt Lake County Jail. Court records show she was charged with violation of parole or probation, theft and unlawful possession of a financial transaction card.
Dewsnup reportedly told police she was under the influence of an anti-anxiety drug called Xanax and did not recall the incident, but said she would take full responsibility for what happened. She admitted that she had used the victim's credit card to make the online purchase.
According to court records, Dewsnup has prior convictions for theft crimes in Utah and Alaska.
KSL.com reported she later pled guilty to a misdemeanor charge, was fined $800 and sentenced to two years probation.
More like this story
SUBMIT FEEDBACK
Click Below to:
This Week's Circulars
To view money-saving ads...