Are gun-mounted video cameras up next for police?
Williams police to test gun-mounted cameras
AP and Staff Report
Originally Published: October 20, 2017 6 a.m.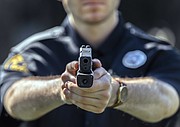 A small number of police departments are showing interest in a new type of video camera that can be mounted directly on officers' guns, saying it may offer a better view of officer-involved shootings than body cameras.
Some law enforcement officials and civil rights groups are skeptical.
Among the cons, they point out, is that gun cameras start recording only after weapons are removed from holsters and won't capture what led to officers drawing their guns, or other interactions with the public. They also say they should be used only as a complement to body cameras.
Besides the better view, supporters say the pros include lower video storage costs because gun cameras record much less often than body cameras, and a feature in some models that instantly alerts dispatchers and nearby police via Wi-Fi and Bluetooth when officers draw their weapons and may need help.
Some departments planning to test gun cameras include the Williams Police Department, and the West Hennepin Public Safety Department, which serves suburban Minneapolis, according to manufacturers.
In the Quad Cities, only the Yavapai County Sheriff's Office uses portable cameras, and those are body-worn. The YCSO won't be changing, spokesman Dwight D'Evelyn said, citing the cost to convert systems and the fact that "the majority of police contacts do not involve an officer drawing their firearm."
Chino Valley Police Lt. Vince Schaan said his department supports the general idea of cameras, but "will not be utilizing gun-mounted cameras any time soon."
Schaan noted that, although the department can't yet afford to equip officers with body cameras, "some officers have taken it upon themselves to purchase their own cameras, as they also feel it is important."
"I do not ever foresee the Prescott Valley Police adding gun-mounted cameras," Sgt. Jason Kaufman said. "A body-mounted camera would be more beneficial than a gun-mounted camera," he added, because "we do not have our firearms out at all times."
Kaufman said he expects to see PVPD introduce body cameras in the near future.
"At this time, the Prescott PD has not looked at or evaluated (gun-mounted cameras," Lead Police Officer David Fuller said. "So, I do not know if it is any better that various 'body camera' devices that are on the market. 
Many things would have to go into an evaluation to determine that. Field of vision, would they effect the point of impact for that particular weapon, how they are activated, storage potentials, (and) cost-effectiveness."
Fuller said the department was always open to looking at new technology, "but complete evaluations would have to take place beforehand to see if they would fit the needs of our agency."
Testing and Cost
Executives at two companies that make gun cameras, Viridian Weapon Technologies in Minneapolis and Centinel Solutions in Palm Beach, Florida, said that several departments have tested or plan to test their devices, and that many more have expressed interest. But they would identify only a few of their clients.
Gun-mounted cameras have been around for years, mostly for sport shooting enthusiasts, but have not caught on with law enforcement. Some police departments are using cameras mounted on their stun guns that activate when the safety switches are turned off.
The cameras cost around $500, about the same as some body cameras, and mount under the gun barrel. Some also have high-powered lights so officers do not have to hold both a gun and a flashlight.
There doesn't appear to be any gun camera footage of a police shooting yet because police agencies have not formally approved use of the cameras and no shootings happened during trials.
Officials at larger police departments, including New York and Los Angeles, said they have no plans to use gun cameras.
"If you put a camera on a gun, it's only going to work when you pull your gun," said Deputy Chief Timothy Trainor of the NYPD, which is expanding its use of body cameras.
"We're more concerned about capturing (all) interactions between the community that we are tasked to serve and the officers."
More like this story
SUBMIT FEEDBACK
Click Below to: